This afternoon, the House of Representatives overwhelmingly approved the National Defense Authorization Act (NDAA) with three amendments opposed by LGBT advocates, including one that would add a step to the "Don't Ask, Don't Tell" repeal process and two that reaffirm or expand the Defense of Marriage Act.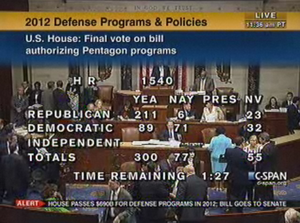 On a 322-96 vote with substantial Democratic support and only token Republican opposition, the bill easily passed the Republican-controlled House. The amendments, however, are unlikely to be passed in the Senate version of the NDAA, which is yet to be considered. Moreover, earlier this week, the White House announced it "strongly objects" to all three provisions — although it stopped short of recommending a veto if the provisions are included in the final bill.
Servicemembers Legal Defense Network executive director Aubrey Sarvis said in a statement, "The opposition may well believe they won the day in the House, simply outnumbering repeal advocates. But this fight is far from over. We must look to repeal supporters in the Senate, where the defense bill will be taken up next and where we are better positioned than in the House. We need to beat back this harmful language and make sure it does not survive in conference committee."
The DADT-related amendment, proposed in the House Armed Services Committee by Rep. Duncan Hunter (R-Calif.), expands the required certification process for repeal — which already includes the president, defense secretary and chairman of the Joint Chiefs of Staff — to include the sign-off of the service branch chiefs of the Army, Navy, Marine Corps and Air Force.
In addition to the Senate and White House impediments to Hunter's amendment, there also is the matter of time. As noted, a version of the NDAA still must pass the Senate, then the differences must be worked out in a conference committee and the final bill sent to the president for his signature or veto. This makes it highly likely — even if Hunter's amendment was included and the president signed it — that the provision would be moot by time it became law given the timeline for certification that has been expressed by military officials.
As to the marriage amendments, the first, proposed by Rep. Vicky Hartzler (R-Mo.), "reaffirms the policy of section 3 of the Defense of Marriage Act." The amendment — made applicable to the NDAA by referencing Department of Defense rules and regulations, as well as DOD employees — also repeats section 3's policy of defining "marriage" and "spouse" as relating only to opposite-sex marriages.
The second, offered by Rep. Todd Akin (R-Mo.), expands upon the current restrictions of DOMA by effectively banning same-sex marriages from being performed at military bases or by military employees. Akin's amendment prohibits weddings from taking place on military installations – such as bases – or other Department of Defense property if they don't comply with DOMA. It also prohibits chaplains or other DOD employees from performing non-DOMA-compliant marriages while "acting in an official capacity."
Of the marriage amendments, Sarvis said, "Make no mistake: these attempts by repeal opponents to shift the debate from DADT to DOMA is simply another way to strike at the dignity of LGB service members. Along with our allies, SLDN will stand up for these warriors, who should never be treated as second-class patriots."
Servicemembers United executive director Alex Nicholson noted in a statement, "The passage of the defense authorization bill with these hostile amendments included comes as no surprise, and it should not become a cause for concern as long as our allies in the Senate and the President all stand strong and refuse to support a defense bill containing these amendments."
Calling the amendments "a waste of time," Nicholson added, "The Pentagon, the President, and the American people have made it abundantly clear – we are moving forward and building a stronger military free of unnecessary discrimination."