Those attending Youth Pride in Dupont Circle this year got a first look at the newly named king, queen and drag queen of Mpodérate!, La Clinica del Pueblo's LGBT youth program.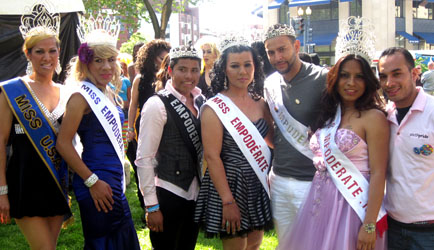 (Photo courtesy of Ramirez)
Now in its fourth year, the pageant has been a tradition even before Mpodérate! opened its drop-in center at 3055 Mount Pleasant St. NW in June 2010, says José Ramirez, La Clinica's youth program coordinator.
"The mission is basically to be the face of Mpodérate!," Ramirez says, "but also for them to be going out into the community and educating their peers around HIV/AIDS, safer sex and other issues affecting young Latino youth, like immigration, domestic violence, and not going to school.
"Some people are afraid to go to school due to the fact that they are gay or immigrants. Right now there's a lot of focus around the [Development, Relief and Education for Alien Minors] (DREAM) Act, and how a lot of youth don't have [legal documentation] and they go to high school but they can't go to college."
This year's winners are: Ezequiel Hernandez, 19, of Hyattsville, Md., who is gay and will serve as king; Ruby Orellana, 24, of D.C., who is transgender and will serve as queen; and Jorge Hernandez, 20, of D.C., who is gay and performs as Sylvana DuVél, selected as this year's drag queen.
"This year we added 'drag queen' because we see a lot of young men who want to do drag. Her job is to educate them around HIV/AIDS and also help through the process of self-expression, like makeup, hair, performing," Ramirez says.
"All of our [winners] this year are young queer youth. They're all immigrant youth from El Salvador so they represent who we actually work for."
For more information about Mpodérate! or La Clinica del Pueblo, call 202-462-4788 or visit lcdp.org.