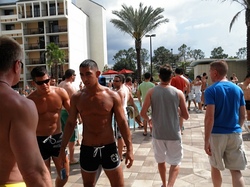 "Every year I've gone, I've enjoyed it," says Kenny Allen, of Arlington, Va. "There's something for everyone. From just putting on a red t-shirt and going to the Disney parks everyday to doing the parties and dancing until the sun comes up, it's all fun!"
What Allen is describing is Gay Days Orlando. He attended last year's event as well as 1995 and 1998.
Gay Days began as a single day event in 1991 when gay guests where encouraged to ""Wear Red and Be Seen" while visiting Walt Disney World.
The event has now grown into a multi-day festival filled with parties and specials events. More than 100,000 LGBT travelers are expected to attend this year's Gay Days, May 31 to June 6, 2011.
Tickets and rooms at the host hotel, the DoubleTree by Hilton Hotel Orlando at SeaWorld, are still available. For more information, visit
gaydays.com
.
[Photo: Kenny Allen]