It's a shame the Washington National Opera didn't end its season with the brooding intensity of the memorable Iphigénie en Tauride instead of the determined but unenlightened Don Pasquale, which corners one rather like the party guest who insists on describing, between bouts of hilarity, last night's episode of something you would never want to see.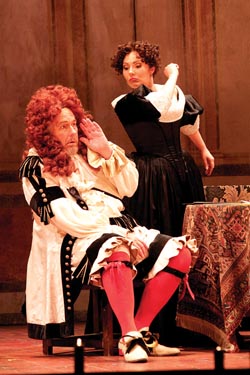 (Photo by Scott Suchman)
Though Pasquale was no doubt imagined as a witty confection upon which to launch the long summer break, in reality it is another example of the unevenness that has dogged recent seasons. And although Maestro Domingo may not have known his date of departure as general director of the WNO when this season was set, it is also hard not to wish he had closed it out with his voice instead of his baton. Still, for those in need of a final fix before the break, at least it is Donizetti. And with its acrobatic trills, melodic arias and pleasing ensembles, there is something for nearly every ear.
Of course, being an opera buffa — the 18th century equivalent of a sitcom — it goes without saying that there is as much silliness here as there is drama. After the elderly but thoroughly full-of-himself Pasquale threatens to disinherit his nephew Ernesto by finding himself a bride and a new heir, the old man's doctor, Malatesta, decides to teach him a lesson. Thus begins a deception in which Ernesto's girlfriend Norina lures Pasquale into a sham marriage from hell. Pasquale emerges humbled and all too ready to give his blessing to Ernesto and Norina.
Considered a fine example of the comic operatic tradition, there are few surprises here other than the slightly sadistic degree to which Donizetti has Norina goad Pasquale. Whether it is a comment on the "real" wives women may become after the vows or whether it is all about Pasquale's just desserts, it leads to a certain poignancy not normally found in the genre.
Still, this texture aside, the opera keeps to formula and thus the whole game is about making it fresh for a modern audience. But how, and for which audience? Unfortunately, director Leon Major opts for the lowest common denominator ensuring that every moment, whether gaff or gasp, is played out with the dumbed-down obviousness of mainstream musical theater. Whether it is Ernesto falling about with heart-sickness or Norina marching around like a pretend soldier, it is all too, too much. As always, less is more, even with farce.
And yet, having said all that, Major is capable of subtlety – he just confines it to the smaller details instead of the whole. Don Pasquale's elaborate, hygienically challenged morning ritual, and the actions of the mute but highly ironic servants are full of a drier brand of humor. It is in these small moments that Leon offers the kind of silent but amusing commentary that brightens a comedy in the same way that heavy-handedness deadens it. Too bad he keeps it on such a tight leash.
DON PASQUALE



To May 27
Washington National Opera
Kennedy Center Opera House
$55-$300
202-467-4600
kennedy-center.org
Still, making of the most of these smaller moments, James Morris brings much presence to his Don Pasquale and some excellent, understated, comic timing. But our sense of this overbearing buffoon is seriously dampened by the fact that Morris's captivating bass-baritone is often beneath the orchestra. Known for his Wagnerian repertoire, it's intriguing to see Morris challenge himself, but frustrating that the issue remained unaddressed.
Writing it large for Leon and thus overplaying it, soprano Ekaterina Siurina seems most at home here. Her Norina is insuppressibly cheerful and determined, but with all that joie de vivre it's hard to see the heart and soul in this woman. When it finally appears, it's in the sweetness of Siurina's tone and the delicate magic of her vocal runs, not the saccharine smiles.
With such a one-dimensional Norina it is also difficult to understand Ernesto's all-consuming passion and, as such, it isn't all that surprising that tenor Antonio Gandia's efforts seem more at-large than specific to his leading lady. A high, tight tenor, Gandia approached piercing at times, but opens with surprising dimension and color in his top notes. As Doctor Malatesta, baritone Dwayne Croft offers a certain cohesion to the goings-on, a modicum of flair, and some expressive singing.
Perhaps exceptionally tasked in his final months with the WNO, conductor Placido Domingo did not have the orchestra quite where it needed to be, even if all was, as always, imbued with his enduring musicality.
And thus a season and an era end with more of a sigh than a whizz-bang. But then again, with an art as old and enduring as opera, it pays to take the long view.