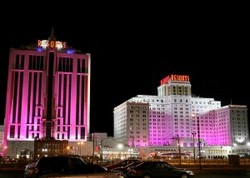 Resorts Casino Hotel announced this week that it has opened Atlantic City's only casino-housed LGBT nightclub, called Prohibition.
"Atlantic City has plenty of world-class amenities, but no full-scale, casino-housed gay nightclub and now Resorts will fill that void with Prohibition," said Joel Ballesteros, Resorts Casino Hotel's newly appointed Director of LGBT Marketing. "Resorts is going to be the place for fun, excitement and a one-of-a-kind energy that will attract people of all lifestyles, and now we have the amenities that can cater to everyone."
Prohibition is open Thursday through Sunday from 6 p.m. to 3 a.m. Featuring a small plates menu, lounge, dance floor, DJ's and regular entertainment, Prohibition will also be open before and after Believe – Divas In A Man's World, Resorts' new celebrity and female impersonators show.
Prohibition has a cover charge after 10 p.m., which is waived for Resorts player's club members. It's free to join the Resorts Players club. To sign up, visit the promotions booth located on the casino floor.
Resorts Casino Hotel is a gay-friendly TAG Approved property and a member of the International Gay and Lesbian Travel Association.
[Photo: Resorts Casino Hotel]