May 14 is "SHINE Night" a nationally recognized annual reminder of the millions of youth facing homelessness.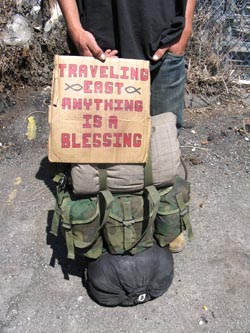 (Photo by Operation Shine)
The Sasha Bruce House, at 1022 Maryland Ave. NE, the only emergency youth shelter in Washington, will commemorate "SHINE Night" from 7 to 9 p.m. with a "fun interactive event" featuring drum-circle performances by Akoma Drummers and the Young Women's Drumming Empowerment Project, speakers and ice scream.
"SHINE Night" is a project of Operation Shine, a national organization combating youth homelessness.
"To shine means to be authentic," says Chloe Noble, founding director of Operation Shine.
"The reason we have Operation Shine is to encourage youth to be able to express that authenticity without fear and for people to accept and celebrate that authenticity."
Noble looks to the research conducted by Dr. Caitlyn Ryan when talking about the plight of homeless LGBT youth in particular.
"What she's done is she's proven, after 10 years of study of queer youth, that youth have drug problems and different depression suicidality and all of that because they're not accepted, not because they're queer," Noble says, pointing out that 40 percent of homeless youth identify as LGBT.
"If you accept them and celebrate them, they thrive, they're able to make the transition from the street back into society and they do well. If we reject them, that's where you start getting the drug addiction and the violence and the suicidality."
Noble says the event at Sasha Bruce House will give local homeless youth a platform to be heard.
"When we reject youth, no matter who they are, it causes negative ramifications within the community," Noble says.
"The primary cause of youth homelessness is a loss of community. When you reject our youth and they end up on the street, and then we don't have a community to support them, or even prevent that, that's really sad and we want to be able to fix that."
For more information about SHINE Night at Sasha Bruce House, call 202-675-9340 or visit sashabruce.org.