You love Stephen Sondheim, the gay genius behind such masterful musicals as Sweeney Todd, Sunday in the Park With George, Into the Woods, Assassins, Passion… right?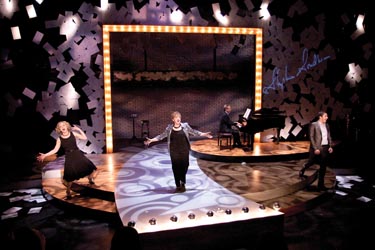 Sondheim
(Photo by Scott Suchman)
Well, sorry. That Sondheim isn't in this show.
No, Signature wants you to get your Sondheim fix with selections from the composer-lyricist's output through 1976, when the revue Side by Side by Sondheim made its West End debut (before a Broadway transfer the following year). Now, that's far from a bitter pill to swallow, given that Sondheim was already putting his inimitable stamp on musical theater with words and music for the likes of Company, Follies and A Little Night Music, not to mention lyrics for such watersheds as West Side Story and Gypsy.
The snobbiest Sondheim snob is unlikely to sniff at such a Broadway banquet from which to draw sustenance. Even the big-tent Sondheim queens – you know, the ones who don't "get" Pacific Overtures and have a secret stash of Jerry Herman albums in their apartments – should be happy as clams for the show's two hours. (Now, if you hate Sondheim, just keep that tidbit to yourself. Some gays will cut you for that in a heartbeat.)
Signature's Side by Side also proves to be a feast of onstage talent: actor-singers Nancy Anderson, Sherri L. Edelen and Matthew Scott, accompanied by pianists Jon Kalbfleisch and Gabriel Mangiante. Everyone exudes an effortless air, as if Sondheim at his most tongue-twisting or musically complex requires no more thought than eating or breathing.
This is no small feat, especially for Anderson, who tackles two of the wordiest (and funniest) songs in the show: "Getting Married Today," the mile-a-minute ode to bridal panic, from Company, and "The Boy From…," a "Girl From Ipanema" parody that Sondheim created with composer Mary Rodgers for the 1966 off-Broadway revue The Mad Show.
An actress practically guarantees herself a mid-show standing ovation just for getting through "Getting Married Today." (Check out the 1970 documentary Company: Original Cast Album for the gleeful schadenfreude moment when Beth Howland – years before her gig as Vera on the sitcom Alice – falls to pieces as she stumbles through take after take in the recording studio. God, how did the poor woman ever make it through a live performance?) And even the simplest Sondheim rhymes here can be grin-inducing; the neurotic bride fears that she'll "collapse" – where else? – "in the apse" if she has to walk down that aisle.
Anderson brings the same daffy charm to "The Boy From…," growing more exasperated every time she has to repeat the ridiculously long name Sondheim came up with in place of Ipanema, and never cluing in to the fact that the dashingly flamboyant object of her desire ("At the end of the week, he's leaving to start a boutique") will never be hers because, well – sorry, dear – he simply doesn't play for her team.
Edelen, Mrs. Lovett in Signature's Sweeney Todd (1979, alas) last season, has glorious moments to spare, whether she's nailing the brashly pulsing angst of the Company number "Another Hundred People" – about the urban anxieties facing a young Manhattanite – or commanding the spotlight in near-stillness, barely arching an eyebrow as she fills the aching melody of "Send in the Clowns," from 1973's A Little Night Music, with every last bit of the emotional power and musical beauty it deserves.
Scott proves to be as handsome of voice as he does of visage, providing a sexily yearning masculine counterpoint to the feminine energy around him. His upper register serves him beautifully as he soars through "Something's Coming" (from 1957's West Side Story, Sondheim's Broadway debut, working as lyricist in collaboration with composer Leonard Bernstein), as well as the quiet intensity of "I Remember" (from the 1966 TV musical Evening Primrose) and the title number from 1964's Anyone Can Whistle.
Scott also gets the climactic Company number for perhaps-confirmed bachelor Bobby, "Being Alive," in which he questions his aversion to romantic entanglements. The song proves that Sondheim doesn't have to rely on intricate phrases – lyrically or musically – to pack a wallop. As Scott belts out "But alone, is alone, not alive," it's the kind of raw, straightforward, heart-wrenching moment – a cry for connection in a world that can make it scarce – that musicals are made for.
Scott is not averse to camping it up, either, and with the Andrews Sisters-style trio "You Could Drive a Person Crazy" (from Company) and "You Gotta Have a Gimmick" (from Gypsy, the 1959 masterpiece that, the narration tells us, would have had a Sondheim score had star Ethel Merman not forbade it) in the mix, a man's gotta do what a man's gotta do: find his own kind of bump-and-grind, in an inspired bit of staging by director Matthew Gardiner, for the three-stripper anthem "Gimmick."
Speaking of masterpieces, few would argue that Sweeney Todd is Sondheim's. And if it feels far away from the Side by Side milieu, just hold out for "Pretty Lady," from 1976's Pacific Overtures, when three 19th century sailors (Anderson and Edelen have to do a bit of gender-bending, too) lust after a Japanese girl: "Pretty lady with a flower, give a lonely sailor half an hour." It hints at the darker turn Sondheim will take by decade's end, when "Pretty Lady" matures into "Pretty Women," the full-on creepy ode to the bleak realms of male desire. And remember that even if you never get to a master chef's main course, you can most certainly get fully sated along the way.