What isn't deteriorating in the Kennedy Center's hauntingly gorgeous revival of Stephen Sondheim and James Goldman's 1971 musical, Follies?
Florenz Ziegfeld-like impresario Dimitri Weismann (David Sabin) – having seen his beloved New York theater decline from vaudeville showplace for showgirls to seedy showcase for blue movies – has summoned veterans of his lavish Weismann Follies, which flourished between the World Wars, for a reunion on the eve of the theater's demolition to make way for a parking lot.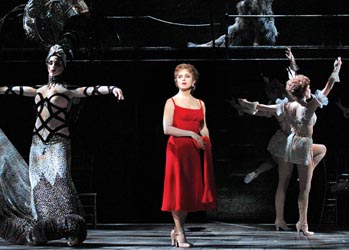 Bernadette Peters and ghosts in the Kennedy Center production of Follies
(Photo by Joan Marcus)
Two former showgirls, Phyllis (Jan Maxwell) and Sally (Bernadette Peters), have shown up with husbands Ben (Ron Raines) and Buddy (Danny Burstein), and it's soon clear that the couples – whose relationships date back 30 years to the waning days of Weismann's extravaganzas – are in marriages that have deteriorated as badly as the theater itself.
Sally arrives on the verge of mental breakdown, too. She's obsessed with the man who got away, Ben, and is so unhappy in her life with the man she got, Buddy, that she's willing to walk away from everything if Ben would ditch Phyllis and rescue Sally from her sadness.
They're surrounded at the reunion by other aging showgirls who are ghosts of their former selves, not to mention literal ghosts – showgirls endlessly wandering around Derek McLane's towering set, eerily lit by Natasha Katz; as well as youthful versions of Sally (Lora Lee Gayer), Buddy (Christian Delcroix), Phyllis (Kirsten Scott) and Ben (Nick Verina), who fill in the backstory of young romance, betrayal and heartbreak.
Maxwell and Peters are knockout presences, though each commands the stage in a very different way. Maxwell is a soaring statue of blonde, luminescent beauty – in the mold of Nicole Kidman and Patricia Clarkson – whose Phyllis almost seems cold, until you sense the anger that simmers beneath the surface, directed at Ben and his womanizing ways, and sense the desire she clearly has for rekindled passion – with Ben, or anyone – if she could only let go of the überglamorous life he's given her. She finally unleashes her pent-up frustrations in "Could I Leave You?" – delivered with dramatic and musical force that blows Ben, and the audience, away.
Peters's Sally is a woman running virtually on empty – a spitfire whose fuel level is so low that she will obviously crash if the night doesn't turn out the way she hopes. This isn't the bigger-than-life diva Peters of, say, an Annie Get Your Gun revival. This is something much deeper, and much more disturbing. When she gets to Sally's showcase anthem in Act 2, "Losing My Mind," the question at its core – Am I going crazy? – is purely rhetorical; Peters delivers the song with such voice-breaking teariness and such anguished cries of defeat that regardless of who takes her home, she could well wake up tomorrow and find herself shattered into as many pieces as the theater once it meets the wrecking ball.
Raines's Ben and Burstein's Buddy aren't completely easy to love. These are characters who have definitely made some hurtful choices affecting Phyllis and Sally. But they're awfully hard to hate, especially with Verina and Delcroix on hand to provide a dreamily dashing portrait of young friends whose worlds are their oysters.
It's never completely clear what Ben wants at midlife that would make him happy, but even his caddish facade for Phyllis eventually crumbles to reveal an aging man terrified of loneliness. And while Buddy could easily take an easier path other than his marriage to Sally, he's ultimately too weak to make the break. Or maybe it's that he recognizes a strength in himself that makes him the only one who can truly stand by Sally's side.
There's a plenty of Sondheim's distinctive sound – dark dissonance and muted trumpets – combined with Goldman's plot. But there's also what the composer-lyricist himself described as an "orgy of pastiche" (thank you, Signature's concurrent revival of Side by Side by Sondheim, for that tidbit) — a cornucopia of showstoppers that pays homage to the faded era of showbiz that gave these showgirls their glory days.
FOLLIES




and one half
To June 19
Kennedy Center
Eisenhower Theater
$45-$150
202-467-4600
kennedy-center.org
If there is a more effective way to integrate some of these numbers – "Ah, Paris!," "Broadway Baby," "One More Kiss" – director Eric Schaeffer hasn't found it, and the mood can falter when an old girl pops up for a big number. Not that you can't relish Linda Lavin (as Hattie) – looking good – belting out "Broadway Baby" for its own sake. Or drool over the operatic lushness Rosalind Elias (as Heidi) brings to "One More Kiss."
But those kinds of numbers don't always make much dramatic sense. The numbers for Carlotta (Elaine Paige) and Stella (Terri White) have better setups. Carlotta, who went from showgirl to movie and TV star, is dishing with the waiters when she delivers "I'm Still Here," and Paige makes it crystal-clear why she is a British stage diva to be reckoned with. Stella, leading the sprawling production number "Who's That Woman?" – also one of several showcases for stunning costume design work by Gregg Barnes – launches it by digging out a box of old dance shoes and re-creating a big blast from the showgirls' Weismann Follies past.
Schaeffer is on solid footing more often than not, though, and when the show itself makes a psychotic break from reality in Act 2's "Loveland" section – dissolving into a full-blown Weismann Follies-style sequence to confront the demons torturing Phyllis, Ben, Sally and Buddy, it is a jaw-dropping testament to the talent that went into creating Follies four decades ago and the talent that has gone into bringing it once again to magnificent life.