A transgender woman was assaulted by a group of three men and one woman outside of a 7-11 convenience store around 3:30 p.m. on Saturday, May 21, near her home in Fredericksburg, Va.
According to the Fredericksburg Police Department, the incident occurred a few hours after the victim – who has requested she not be identified, as two of the alleged assailants remain at large – got into a verbal altercation with a 17-year-old neighbor.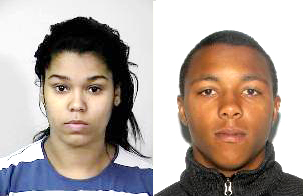 Webb and French
(Photo courtesy of Fredericksburg Police)
"She and this young neighbor got into this argument that escalated," says Natatia Bledsoe, police public information officer, explaining that the argument centered on the victim's dog, that had gotten loose in the neighborhood. "During this argument, the neighbor was taunting her about her appearance and sexuality.
"What we believe is that the young neighbor called her cousin, who is Farkeem French, 19, and basically said, 'Come take care of this problem for me."'
Bledsoe says the loose dog, a Pekingese, was in no way a threat to the neighborhood.
"It's a tiny dog," she says. "It wasn't a threat. It was just loose."
Two of the suspects, French, who turned himself in to authorities, and his girlfriend Laqueta Webb, an 18-year-old high school senior, have been arrested and charged with "malicious wounding by mob." Both are in custody.
Police had no further information regarding two other suspects, except that they are African-American males and that one fled the scene in a red Saturn.
Police, as yet, do not believe that the victim was targeted because of her transgender status, though Bledsoe confirms that anti-transgender epithets were used during the altercation leading up to the attack. The victim, however, believes she was targeted as a trans woman, Bledsoe adds.
Bledsoe says the victim suffered several injuries after being forced to the ground, punched, kicked and beaten with a "broken-off metal broomstick handle."
"Her mouth was split severely. … She suffered cuts and abrasions all over her body. There were minor lacerations to the back of her head. She was bruised all over."
The victim checked in to a Fredericksburg-area hospital hours after the attack and was treated for her injuries. Bledsoe, who has been in contact with the victim since the incident, says the victim has been surprised by the support she has received from neighbors since the attack.
"I spent a couple of days with the victim and spoke with her at length about this," Bledsoe says. "She had a neighbor who she didn't really know very well, and it was that neighbor who came to her aid during the assault. The neighbor actually laid her body on top of the victim's to stop the assault and then helped her to get home, called 911, stayed with her throughout and since the assault has been checking on her every day, making sure that she's okay.
"The victim stated to me that she didn't realize that she had neighbors who cared about her. She told me that she always feels a little uncomfortable going out in public. … We're not a community that has a lot of lesbian, gay, bisexual and transgender individuals in the community, so she does feel that she stands out. She just hasn't felt comfortable getting close to her community. She feels differently now. I think the neighborhood has embraced her and showed her that she is an accepted member of the community."