Ralph Ellison wrote The Invisible Man as a novel exploring the narrator's sense of social invisibility as an African-American man of the early 20th century. In an America decades beyond that of Ellison's unnamed protagonist, Victoria Kirby is, in a sense, the legacy of Ellison's efforts – and of many others' – pushing America toward social justice. She is, at 24, throwing herself passionately into the issues and social arenas of her day. As a woman, as an African American, as a lesbian, Kirby has made herself wonderfully visible.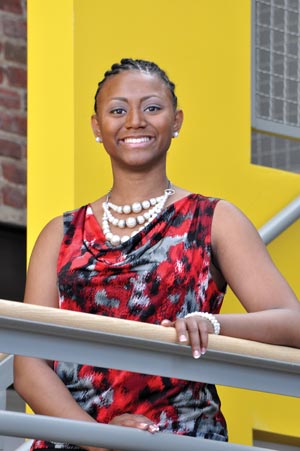 Victoria Kirby
(Photo by Todd Franson)
During her suburban Tampa, Fla., upbringing, however, her passion to engage had not yet surfaced. Instead, her intelligence and thick glasses made her a target for her peers.
"Most of my day was spent hearing people say the negative things," Kirby says when recalling a painful childhood. "'You're ugly.' 'You're a nerd.' 'You talk white.' 'You talk too proper' – all those ignorant things kids say.
"I had adults in my home and in my church who always encouraged me, but I had bouts of depression. I tried to commit suicide. By the time I got to my junior year in high school and I came out, that was really the time where it clicked in my head that you have to love yourself. It really took an entire childhood and really processing things to get to that point."
Getting to that point has served Kirby phenomenally well, with a successful end to her high school career bringing her to Howard University and to D.C., where her engagement in life has blossomed beautifully. She has served in myriad university positions, from student government to the campus paper's policy board. Michelle Obama invited her to hear President Obama address Congress. Since moving to Washington, she's appeared on multiple TV news outlets. Kirby serves on the board of the International Federation of Black Prides and the Human Rights Campaign's Diversity & Inclusion Council. She made history as the first openly gay member of the Howard University Board of Trustees. But the decision to study at Howard, rather than at the University of Florida, was one that came right down to the wire.
"I'd already paid my housing deposit to the University of Florida," Kirby remembers, adding that her plan was to study journalism. "I came on my tour of Howard and that's when I really just fell in love with the university, just seeing the people on campus, how motivated there were, how determined they were to succeed.
"And there was something about being in a community of people who resembled me, who were just like me in the sense of African Americans who were ambitious, career-driven, and committed to social justice and social change.
"But I actually didn't make my final decision till May 1, which was the deadline."
How Kirby's life may have played out differently in a Gainesville, Fla., setting is anyone's guess. It's hard to imagine, though, that she could have flourished more than she has at Howard, where she's finishing up her master's degree in public administration and working in the office of the university's president. Regardless of the richness of Kirby's Howard experience, however, she now faces another juncture in her life. Days after she is presented with the Metro Weekly Next Generation Award, she will be left with a decision: stay at Howard University, or move on to a new adventure.
There are strong arguments to stay. At Howard, Kirby could have the opportunity to continue the job she's begun establishing the university's social-media presence. There's also her involvement with the Howard School of Divinity, where Kirby, a devout Christian, has been an active member of the school's chapel. She speaks most passionately, however, about launching an LGBT resource center.
"I'm on our Student Affairs Advisory Committee where we're developing the first LGBT resource center on an HBCU (Historically Black Colleges and Universities) campus. It's awesome. I'm extremely excited about it. … In terms of programs and initiatives, I want to start an LGBT ministry that's more interfaith based, so people from all religious backgrounds can feel like they have a space to really talk about their spirituality and sexuality. And an employee resource group so that we have a space for LGBT faculty and staff. We also want to work to develop a black LGBT studies minor."
Kirby's zeal could fill a room. It's no wonder she's even tried her hand as a motivational speaker. And although she has some idea of where she'd like to be a decade from now – a state legislator or a professor, with a wife and kids – graduating means she's got pressing decisions to make. For one, there's the roof over her head. Since Kirby lives in student housing, her May 14 graduation essentially coincides with the end of her lease. She guesses, with her affable demeanor hiding any tension, she'll navigate this crossroads with the same last-minute judgment she used to choose Howard.
"I'm not quite sure where I'm going to go," says Kirby, as bolstered today by her faith as was when she was a little girl being bullied. "I like to know where my life is going, but God has never worked that way with me. Howard has offered me two positions. And Organizing for America, the Democratic National Committee's project to develop organizers for their campaigns, I got their fellowship for the summer. But if I do that, the position at Howard may or may not still be there."
Whatever choices Kirby makes, it's a safe bet that she will continue to shine brightly, to live her life vibrantly and visibly, making her mentors proud and her community stronger.