You can't be blamed for balking at the idea of seeing Ruined, a play that confronts head-on the mass-rape of civilian women by combatants during the Second Congo War. With thinly veiled attempts at titillation now a routine component in the dramatization of violence against women, you can't help but dread the possibility of yet another example of this sickening norm. On the other hand, you also know that if the subject is handled with integrity, the play is guaranteed to disturb if not devastate.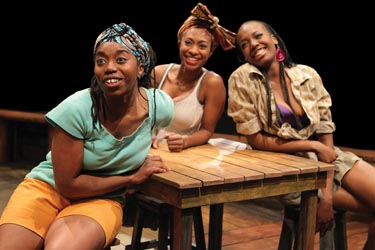 Ruined-Grays, Holmes and Malone
(Photo by Joan Marcus)
Rest assured that playwright Lynn Nottage and director Charles Randolph-Wright manage their difficult subject with a rare blend of finely controlled realism and priceless restraint. Not only do they quash any notion of sexual violence as entertainment, they also show us that a finely crafted less can be far more effective than a shocking more. With Nottage's careful balance, we know exactly what has happened to these women. And yet she ensures us the space to see where they have landed spiritually and emotionally, not just physically. It is an approach that leaves personhood intact without denying reality.
So, while you may weep for the women in this play, you will just as easily find that, despite the violence they have suffered, there is a power of endurance. It is a power that allows the women to laugh, sing, and sometimes see the future as something they might still own, even as Nottage gradually shows us the extent of their damage. There is a certain rejoicing here – a confirmation of survival – but only when the women are in control.
And setting her play in a bar-brothel, Nottage does so much. In the daily business of turning a coin, she transforms statistics into living, breathing women with every kind of virtue, flaw and individuality; bar music into exquisite reflections on the joys, sorrows, terror and tension of life in Congo; and verbose soldier patrons into purveyors of the context of a complicated war. And like many a great drama, at the heart of this play there is a love story, if not a fairy tale.
At the center of this bar, serving as anchor, antagonist, and sometimes metaphor, resides Mama Nadi, a woman determined to take all comers willing to pay for her drinks and her women. Simply amazing in the role, Jenny Jules gives us an unforgettable Mama. Highly mannered, self-possessed, ruthless, she is the keeper of a private agenda we long to know. Jules captures all of her contradictions and mysteries with conviction and power. And to her great credit, Nottage keeps Mama just the right side of predictable – at least until the rather dreamlike sequence at the play's end.
Beautifully cast opposite Jules is the superb Jeremiah W. Birkett as Christian, the village businessman who finds Mama irresistible. There is much chemistry here and we can well understand why Christian sticks around for Mama's abuse. But Christian also shows us the fate of the peace-loving, educated man in Congo's conflict. Unwilling to take up arms, he is vulnerable and powerless. Birkett gives us this thwarted yet compelling man with much nuance, especially as he woos and waits on Nadi.
The brothel girls: Salima, Josephine and Sophie populate the bar with vibrant individuality and yet also suggest the easy cohesion of Mama's "family." As Salima, Donnetta Lavinia Grays brings a quiet, mournful intensity to her role even if Nottage ultimately denies her enough of the all-consuming grief of a mother. As the voice of all the women who saw their worlds destroyed the day a soldier crossed their path, Grays channels their agony with heartbreaking clarity. In striking contrast, played with an extremely convincing combination of savvy and innocence by Jamairais Malone, Josephine seems content with her life as the brothel's star, even as she too eventually reveals that there is more to her than meets the eye. Finally, there is Sophie, the young woman carrying the wounds that give the play its name. With a beautiful singing voice and an affecting delicacy, Rachael Holmes brings much poignancy to Sophie, even if she is sometimes challenged by her quirky blend of strength and vulnerability.
RUINED





To June 5
Arena Stage
1101 6th St. NW
$70-$85
202-488-3300
arenastage.com
Bringing war news, painful reminders of the past, and ultimately danger, the soldiers visiting Mama's keep the tension here high. All are played effectively and well, keeping close to the careful mood of set by Nottage and director Randolph-Wright. Clifton Duncan gives his Kisembe a quiet gravitas, while Babs Olusanmokun evokes in his Commander Osembenga a credible, zealous menace. Segun Akande moves between soldier roles with dexterity and, with searing accuracy, suggests just the kind of unanchored aggression that has so ruined the lives of countless women in war – the shadow that fell across their paths.
Still, though a specter of terrible violence haunts Ruined — and will haunt you long after you leave the theater — any treatment of war and women written and performed with such power, grace and humanity is simply not to be missed.