Mother Nature, always the wild card for D.C.'s many outdoor events, looked as though she were going to insert herself into the story of this year's Capital Pride Parade and Festival. As the city's 36th annual LGBT celebration approached, so did the forecasts of storm clouds and rain.
Yet a few sprinkles just before the start of the Saturday evening parade quickly dissipated, leaving behind cooler temperatures to the relief of the hundreds of marchers and thousands of onlookers. Sunday's heat made the brief downpour at the end of the day a quick respite before the big finale on the festival's main stage.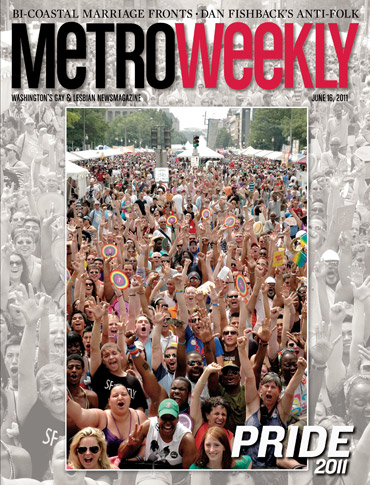 In short, Mother Nature gave Pride a pass. And the community took advantage of it, making this 2011 one of the biggest Pride events yet, according the organizers.
Michael Lutz, president of Capital Pride, estimates that about 250,000 people attended Saturday's parade and Sunday's festival altogether.
"I would say there were more people at the festival definitely," Lutz says, adding that he sensed a heightened sense of enthusiasm this year. "We saw a lot more floats, a lot more organizations are coming in with more than just the walking contingent, spending a lot of time and sweat and energy to develop floats that they can put in the parade."
That energy was shared by those who attended the festival on Pennsylvania Avenue, where the Capitol serves as the iconic visual cue, framed by the main stage scaffolding.
Among this year's revelers was Soo Park, celebrating his fifth Pride in the nation's capital. Park, a D.C. resident, came to Washington from Korea seven years ago.
"I'm gay and being different is a beautiful thing," Park said, wearing eye glasses sporting gummy bears along the frames. "I love to participate in Pride by celebrating who we are and what we are as a whole in society."
While he thinks society has certainly become more accepting, Park said he "would like to see more work on gay marriage."
Tracy Smith of Falls Church came to the festival with her girlfriend of the past three years, and her two children, 4 and 6. For her, Pride is a "big party."
"Pride is about having fun," she said. "All year long we have to work and stress over taking care of the kids. This is the one time of the year when my girlfriend and I can act like kids ourselves."
Though he attended Pride last year, Parfait Kamden said he considers 2011 his first Pride.
"Because I enjoyed [it] much more than last year," he said. "This event shows that we have power, and that we want equality. That's why I'm here."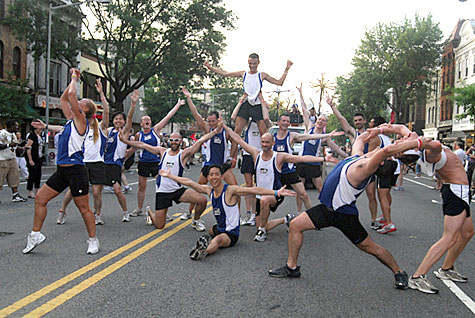 "IS LADY GAGA going to be here?" one Pride festivalgoer asked in all seriousness as she watched the performances on the main stage.
Well, there was a Lady Gaga impersonator among the rambunctious Ziegfeld's Ladies of Illusion troupe – but Tatiyanna Voche wasn't exactly born this way. (To be exact, he was born Jonathan Jackson.) You also couldn't go very far all weekend without hearing a Gaga tune blaring.
But the headline star for the festival, Jennifer Holliday, has her own long history with the gay community, stretching back to her career-defining role in the original Dreamgirls. As Mayor Vincent Gray said in introducing Holliday, "We have a star with us today."
And Holliday shone so brightly at the festival – her rich voice earth-shatteringly powerful — she seemed to single-handedly return the sun to the sky after a rainy, cloudy hour.
"While I was singing that song, the sun just came out and shone on my chest. Did you see that?" Holliday said after the show. The song in question was "Magic," a single that had its world premiere at the festival alongside the song's producer, celebrated gay circuit DJ Tony Moran.
"I just want to thank you for loving me," Holliday sang in the song's bridge. "Love feels like magic because of you."
The winsome Holliday gave lots of love to the adoring crowd in speech as well as song.
"I've had a 30-year love affair with this community," she said to the adoring crowd. "If it hadn't been for this community, there'd be no Dreamgirls, and there'd be no Jennifer Holliday."
Holliday dedicated her signature song, "And I'm Telling You I'm Not Going," from her Tony-winning role in Dreamgirls, to those lost to AIDS over the last 30 years, including many of the show's original creative team. The crowd erupted in chants of "Jenn-i-fer! Jenn-i-fer!" after she tore through the performance.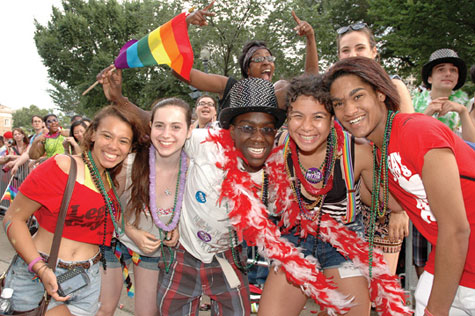 Holliday had previously wowed Capital Pride as headliner in 2003, but this time was altogether more magnetic. "I felt a connection [with the crowd], like I have more of a relationship than I did before," Holliday said backstage after the show, where she hugged fan after fan, posed for countless photos and even signed T-shirts.
Just a week earlier, she had performed with the Gay Men's Chorus of Washington. Once she became the Pride headliner, filling in for Kelly Rowland's cancellation, she asked the chorus's resident choreographer Craig Cipollini to quickly assemble a six-man troupe to serve as her backup dancers.
"It was probably one of the more exhilarating performances," says GMCW and DC Cowboys veteran Daniel O'Neill. "It was a joy dancing with her." (O'Neill, wearing a purple muscle-shirt and jeans, was part of a rainbow beefcake crew, joined by yellow-shirted James Ellzy, orange-shirted Matthew Townsen, green-shirted Oliver Truong, blue-shirted Nicolas Baker and red-shirted Joshua Bennett.)
Both GMCW and the DC Cowboys – plus the Cowboys' Jonathan Bascope, performing original dance-pop tunes – took to the main stage earlier in the day, a scorcher until it rained around 5 p.m. The brief shower hit just as the Ladies of Town and X-Faction performed. "Don't let a little rain stop your pride," drag queen Destiny B. Childs counseled, invoking memory of her unforgettable rain-soaked performance of "Fame" last year. The rain proceeded to cool things off to a perfectly pleasant temperature in time for Sabrina Johnston to perform her nearly 20-year-old club hit "Peace (In The Valley)."
Before Holliday called back the sun, Gray did what he could to brighten spirits. "I'm proud of being a native of Washington … a city that knows how to send love to the LGBT community," he said during what was his first Pride speech as mayor. Noting his 2009 vote for marriage equality as member of the City Council, Gray said: "Whether you're lesbian, gay, bisexual or transgendered, you are full citizens of the District of Columbia.
"We are one city for everybody."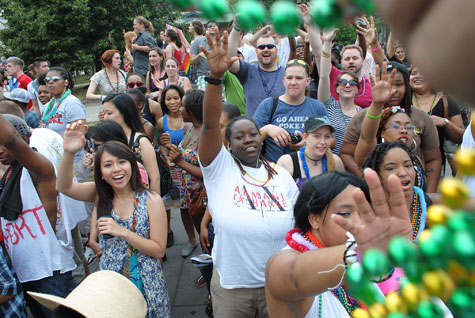 AT CAPITAL PRIDE, politicians join in the parade, but political and activist organizations take Sunday's festival as their prime opportunity to educate the community and recruit members.
For two organizations centered around "Don't Ask, Don't Tell" repeal, this Pride was seen as particularly important – although for different reasons.
"We're looking to be a post-repeal gay and lesbian veterans organization," said Servicemembers United's Jarrod Chlapowski. "And we can't help people unless we know who they are. So, to identify those 990,000-plus veterans that are out there, [being at Pride] is key."
Down Pennsylvania Avenue, Servicemembers Legal Defense Network Executive Director Aubrey Sarvis was focused on a near-term issue: ending DADT.
"We're trying get the word out that repeal of 'Don't Ask, Don't Tell' is not yet final," he said. "We're pushing the White House, the Defense Department, Secretary [of Defense Robert] Gates to certify [DADT repeal] before he leaves town the end of this month, getting new supporters to sign up and to help us, frankly, put a little energy and pressure to get certification this month."
For local organizations, the festival provides an opportunity to get D.C. residents involved in local politics. Jason Terry, an organizer with the D.C. Trans Coalition, was working the group's booth Sunday.
"We're selling T-shirts and buttons, we're taking submissions for bathrooms that are out of compliance with the Human Rights Act, and we're just passing out information about the coolness that is the D.C. Trans Coalition," he said.
"This year, we've also got a petition to end housing discrimination in response to some regulations that the Office of Human Rights proposed that would allow for sex discrimination in housing."
National groups also can get an education boost out of Pride. James King, a legal assistant for Lambda Legal's HIV Project, was in town from New York City for Lambda Legal "trying to tell people who Lambda Legal is, what Lambda Legal does."
In addition to describing the broad range of cases involving LGBT and HIV on which the group works, King explained that, "People ask us for legal advice. If they do, I refer them to our help desk. We don't provide legal advice, but we tell them what the state of the law is related to HIV protections and LGBT equality, and we pair them up with cooperating attorneys in their community."
For new organizations, Pride is a chance to spread the word. And that's exactly what Marcus Kon, from the online FCKH8 campaign, said his group was doing.
"We started [going to Prides] in May. We did a bunch in Florida, we're here in D.C., we're going to do Columbus, New York, Toronto," he said. "FCKH8 is an activist-based, LGBT campaign. We've been around for about seven months. … People still confuse us with NOH8. We have the same goal, just a different approach."
Same goals, different approaches — an idea that was reflected in the many booths and banners, people and performers who came together to make Capital Pride a day devoted to activism, entertainment and marketing. But at the end of that day, it all came down to one message: equality.
Parade
Festival
Videos coming, too!
Here's a video preview: