Last Saturday, June 18, Baltimore may have seen its last Pride block party at its traditional Mount Vernon location. If that turns out to be the case, it sure went out with a bang.
Singing sensation Deborah Cox closed the overflowing outdoor party with an explosive half-hour performance. She thoroughly electrified the Charm City crowd with her charisma and talent, not to mention her songs, stories and moves onstage at the blocked-off intersection of Charles and Eager Streets.
Baltimore's block party was the pinnacle of a full slate of Pride festivities last weekend, drawing upwards of 30,000 participants. There was also a zany high-heel race (though many of the participants, including the winner, seemed to be in flip-flops and flats) and a blocks-long parade earlier Saturday. The weekend concluded on Sunday with a much quieter, more family-friendly and community-oriented festival in Druid Hill Park.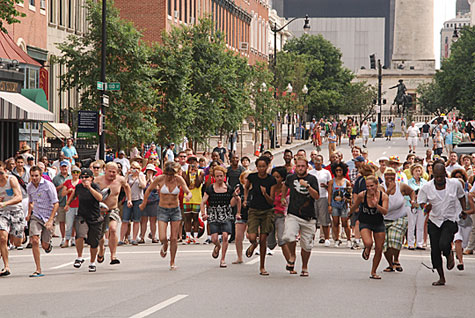 "The block party has really grown to the point now we're probably going to start looking around for another [location]," said Chuck Bowers, owner of Club Hippo, which is located at that same intersection. From the stage, drag queens Shawnna Alexander and Tatiyanna Voché also referenced what they called "the rumors" about the block party's possible move. Bowers said any changes will be announced by the GLBT Community Center of Baltimore, the organization responsible for Baltimore Pride. It's not official yet where the party might move, though Bowers says one option would be to merge it with the Sunday festival at Druid Hill.
Bowers, whose Club Hippo will turn 40 next year, can remember when Baltimore Pride started 36 years ago as a small-scale party.
"It started in a parking lot across the street from the [LGBT] community center," he recalled. "They gave us a couple little stands [to put things on]. It's been growing and growing every year. It brings people from all around. Last year I met some people from Pittsburgh and New York and Virginia. It's really great to know that people come to Baltimore to celebrate Baltimore's gay pride."
Among the many floats and festive contingents, Saturday's parade featured grand marshal Sandy Rawls, founder and director of Trans-United, and honorary grand marshal Del. Mary Washington (D-Baltimore City), the first openly gay African-American elected to state office in Maryland, who was a leading voice in the fight earlier this year for marriage equality.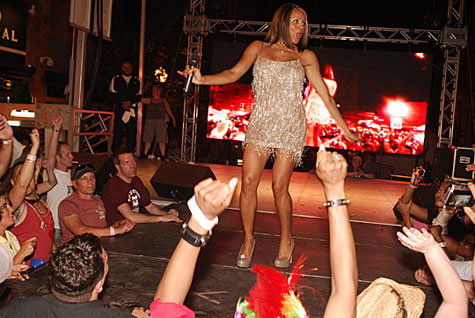 The block party's stage show featured a ragtag group of mostly local and regional performers, including a plethora of drag queens and a few drag kings, a mix of DJs pumping background tunes, and Silver Spring-based queer rockers Odd Girl Out.
Cox, the headliner, announced that later this year she will make her long-awaited return to Broadway. The 2004 star of Elton John and Tim Rice's Aida will play Josephine Baker in Josephine, a new musical about the beautiful jazz era icon.
The Toronto native of Caribbean descent led the block party crowd in chants of "absolutely not" — borrowing the title of her 2001 dance hit – as a response to racism and homophobia. She told the crowd that her hit is "our song."