Safeway has terminated the employee who called a gay couple "faggots" as they waited to make purchases at the grocery chain's 1100 4th St. SW store on Saturday, June 11.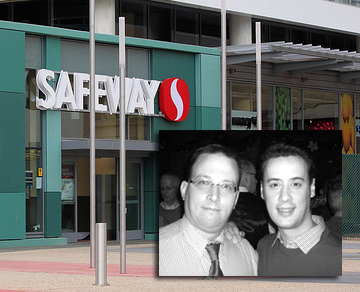 Harrington and Morgan
In a statement issued to Metro Weekly Thursday evening, June 16, Craig Muckle, manager of public affairs and public relations at Safeway's Eastern Division said the incident, involving a cashier named Deangelah, Jason Morgan and his partner Brendan Harrington, was "personally offensive" to him.
"This goes against everything we believe and practice in terms of serving and welcoming our customers, and in being a part of the diverse communities we are privileged to serve," his statement reads.
"We are at a loss to explain how one of our employees, even one who has been on the job for less than a month, could consider this kind of behavior to be acceptable. The employee has been terminated."
According to Muckle, Safeway will be investigating the incident as well as looking into the "unsatisfactory" response customers received when bringing the matter to Safeway's attention.
"We have reached out to the customers involved to extend our sincere apology. We are truly sorry this happened in our store and are taking decisive and urgent action to ensure it does not happen again to any customer in any of the communities we serve. No one should face what these customers faced, and we are humbly sorry it happened to them in our store."
[UPDATE: Couple now says they're happy with Safeway's apology]
Reacting to Safeway's latest apology, as well as termination of the employee, Morgan told Metro Weekly via email that it was "a much better response."
"Rather than let this get swept under the rug, as would have happened without the media and public attention, we have decided not to engage with Safeway without some advice," Morgan wrote, in part. "We have not decided how we will go forward with this company. Please be assured that if we decide any money should be asked for, it will be paid directly to a non-profit group that promotes understanding and tolerance for the LGBT community and NOT to us.
"Also, as a formal apology to the LGBT community, we may ask for a full-page apology printed in the Metro Weekly, as they did not just humiliate and offend myself and my partner, we believe they deeply offended this entire community. Please keep in mind that we are still in the process of our claim with the District's Office of Human Rights."