Former Lt. Dan Choi was in federal court today, the lone individual still facing charges from any of the 2010 "Don't Ask, Don't Tell" protests that took place at the White House.
He also was in uniform, a reminder of the symbol for repeal that Choi and other active servicemembers became during the course of the 2010 debate over ending the 1993 policy and instead allowing out gay, lesbian and bisexual service in the U.S. Armed Forces.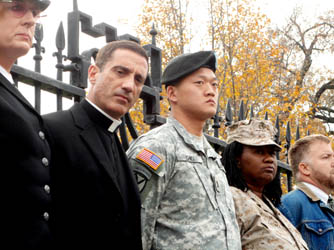 Sitting at the defense table in Courtroom 7 of the E. Barrett Prettyman Courthouse, Choi was silent throughout today's brief conference where U.S. Magistrate Judge Alan Kay set an Aug. 29 trial date for Choi on federal charges of violating a federal regulation prohibiting "interfering with agency functions," specifically disobeying a lawful order of the National Park Service.
Jane Hamsher, of the liberal Firedoglake blog and a prominent critic of Obama administration policies, had announced on Twitter earlier in the morning that she was driving Choi to the courthouse and was seated in the courtroom's public gallery for the conference.
She also stated that Choi is the first person facing federal charges for protesting in front of the White House since Alice Paul was arrested for picketing the White House of President Woodrow Wilson in support of women's suffrage in 1917 — a point later raised by Choi after today's conference.
Unlike other court dates, which brought multiple media outlets and several other supportive activists, the only other observers, besides Metro Weekly, were James Pietrangelo and the nine-year-old daughter of one of Choi's lawyers. Pietrangelo was arrested with Choi at an earlier White House protest, the charges from which were dismissed by the D.C. Attorney General's Office, and said he was there to support Choi.
Choi's lawyers, Christopher Lynn — a New York City attorney who ran for City Council in 1999 against now-Council Chair Christine Quinn (D) — and Yetta Kurland — also from New York City and also a former Quinn opponent, in 2009 — replaced Mark Goldstone and Ann Wilcox, the two D.C. attorneys who had been representing all 13 defendants arrested at a Nov. 15, 2010 protest.
After today's conference, Choi explained that he decided the change in his counsel was necessary when the other 12 defendants accepted an agreement avoiding a trial in their cases. Since he was going to continue to contest the charges, Choi said he brought in Lynn and Kurland.
The conference, which began at 11:30, started with a quick recitation of where the case stood by the prosecutor, Assistant U.S. Attorney Angela George. After George stated that a May conference had left unclear whether Choi was interested in accepting a deferred sentencing agreement that would avoid trial, Lynn stated that the defense was not interested in such an agreement and that he wanted to see a trial date set.
When the counsel and Kay started discussing possible dates, Lynn stated bluntly, "It's up to the government."
"It's their burden," he said of the government's burden of proof in a trial. "We're ready to go."
Although Kay said he believed the trial wouldn't last more than a half-day, George noted that Choi's defense team planned to bring forth multiple character witnesses and that the prosecution also would have multiple witnesses.
Kay appeared surprised at this, asking George, "Oh, you have more than one witness?"
George replied that she would.
As such, Kay set the trial for two days, beginning at 9:30 a.m. Aug. 29 and running over to Aug. 30 if needed.
The trial is to take place before Magistrate Judge John Facciola, who had raised concerns about the charges when he presided over a March 18 hearing in the case.
The case conference for Choi, dismissed from the military this past summer, came just a day after Defense Secretary Robert Gates told the Associated Press that he could support certification of "Don't Ask, Don't Tell" repeal before leaving office on June 30.
If that were to happen, and the other two certifications — by the president and the chairman of the Joint Chiefs of Staff — also took place at the same time, then the 60-day congressional review period would end and repeal of DADT would be final sometime before Aug. 30 — as or immediately before Choi is scheduled to start his trial for charges resulting from his protest of the policy.
[Photo: Autumn Sandeen, Father Geoff Farrow, Lt. Dan Choi, Evelyn Thomas and Justin Elzie protest at the White House on Nov. 15, 2010. (Photo by Yusef Najafi.)]