Today, Citizens for Responsibility and Ethics in Washington filed a complaint with the Office of Congressional Ethics against House Speaker John Boehner (R-Ohio) regarding the $500,000 contracted by the Office of the General Counsel for the defense of the Defense of Marriage Act.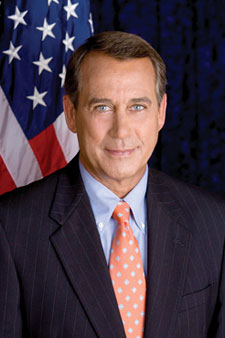 The contract at issue — first signed with King & Spalding and then with Bancroft, PLLC — was entered into after the Department of Justice informed Boehner on Feb. 23 that it would no longer be defending Section 3 of DOMA — the federal definition of marriage — in court challenges.
The complaint alleges a violation of the Antideficiency Act and of House Rules — charges that Boehner's office strongly denies.
The Antidificiency Act portion of the complaint sums up the alleged violation as follows:
Congress appropriated $1,415,000 for the Office of General Counsel for fiscal year 2011. The $500,000 contract represents more than 35 percent ofthe office's total appropriation. With more than two-thirds of the fiscal year having passed, the office will not have sufficient funds to pay for both its remaining salaries and expenses and the DOMA defense as Mr. Kircher acknowledged in his testimony. By authorizing an obligation for more than the amount available in the appropriation for the Office of General Counsel, Speaker Boehner violated the Antideficiency Act.
In describing the alleged violation of House rules, the complaint notes the case of Rep. Charles Rangel (D-N.Y.), in which "the House held that failing to uphold the Constitution, laws and legal regulations of the United States is an ethics violation." As to Boehner, then, the complaint alleges:
As a result, by violating the Antideficiency Act and possibly other federal statutes, Speaker Boehner violated the Code of Ethics for Government Service.
Finally, Speaker Boehner likely violated House Rule 23, which requires all members of the House to conduct themselves "at all times in a manner that reflects creditably on the House." This ethics standard is considered to be "the most comprehensive provision" of the code. …
It does not reflect creditably on the House for the Speaker of the House to violate any federal law or House rule. As Speaker Boehner vocally and vociferously has called for a new era of government fiscal austerity, it is even more egregious for him to have violated federal laws designed to prevent the government from overspending. By authorizing the expenditure of funds the government does not have in violation of the Antideficiency Act and other laws, Speaker Boehner's conduct does not reflect creditably on the House.
Boehner's spokesman, Michael Steel, said in a statement, "This 'complaint' is off-base and stupid to the point that it creates the appearance of partisanship by CREW. The Speaker expects any cost to be recouped from the Obama Administration Justice Department, which should be defending the law in court. The 'anti-deficiency act' has nothing to do with this situation, as anyone with a basic grasp of the law knows."
Read the CREW complaint: CREW-BoehnerComplaint.pdf