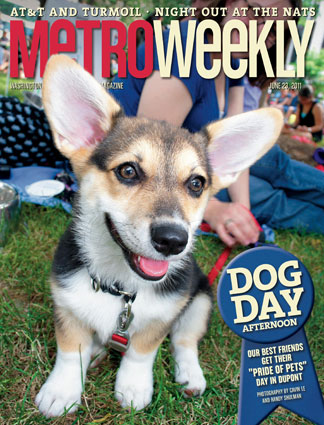 Dupont Circle went to the dogs on Saturday, June 18, during the 18th Annual Pride of Pets Dog Show, benefiting Pets-DC, the 20-year organization helmed by Chip Wells that assists pet owners suffering from AIDS-related and other life-threatening illnesses. There was plenty of canine spectacle on display for both the assembled crowd and participants as the pups vied for honors such as "Best Tail Wagging," "Least Obedient" and "Most Affectionate."
This year's event benefited from a relatively brief run time (just over two hours) and pleasant weather. It wasn't sunny, exactly, but it wasn't broiling as in years past. Various breeds of dogs – from Labradors to terriers to mutts of extremely mysterious origin – paraded around the cordoned-off ring, as judges JoAnn Kokindo of BHT, Dr. Katie Stembler and Nellie's bartender Adam Giammarinaro awarded the trophies and ribbons in the 16 categories.
In all, you could say it was the perfect dog day afternoon.
Over 140 photos of the winners and participants in Metro Weekly's Scene section
Winners: 18th Annual Pride of Pets Fun Dog Show
Saturday, June 18, 2011
PEOPLE'S CHOICE AWARD

Best of Show: Sasha, handled by Tarcisio Buriti
First Runner-up: Tooshy Pride, handled by Skyler Heavans
Second Runner-up: Winnie, handled by Lauren Hengl
BEST TAIL WAGGING
1st: Tennyson, handled by Adrienne Tygenhof
2nd: Madden, handled by Sarah McKeown
3rd: Lamumba, handled by Latissia Mitchell
MOST AFFECTIONATE
1st: Zoe, handled by Laura Drummond
2nd: Linus, handled by John Carlin
3rd: Ritchie, handled by Lori Ward
BEST MIRROR IMAGE
1st: Roxy, handled by Ruth Reynoso
2nd: Nigel, handled by Kurt Jacobs
3rd: Cody, handled by Brad Mayer
MOST OBEDIENT
1st: Tooshy Pride, handled by Skyler Heavans
2nd: Lani, handled by Bernie Delia
3rd: Dallas, handled by Nidhi Thakav
MOST ORIGINAL COSTUME

1st: Sasha, handled by John Kuboff
2nd: Mottzy, handled by Michael Lindner
3rd: Swiss, handled by Michael Lindner
LEAST OBEDIENT
1st: Merlin, handled by Kelsey Ryan
2nd: Fozzie, handled by Lee-Anne Gabrelli
3rd: Teddy, handled by Christy Colyer
MOST MYSTERIOUS HERITAGE
1st: Norah, handled by Meg Hasenzahl
2nd: Daphne, handled by Malcolm Saldanha
3rd: Gypsy, handled by Dani Brink
TERRIFIC TRICKS
1st: Winnie, handled by Lauren Hengl
2nd: Mottzy, handled by Michael Linder
3rd: Hoshi, handled by Danielle Bujosa
BEST PUPPY
1st: Boo, handled by Marisa Mills
2nd: Jazzy, handled by Raymond Lee
3rd: Baxter, handled by Chip Benjamin
BEST SENIOR DOG
1st: Fuzzy Bear, handled by Pat Leitner
2nd: Zoom, handled by Alexandre Picard
3rd: Maya, handled by Helen Malone
BEST PAIRS

1st: Chelsi and Swan, handled by Christie Nightingale
2nd: Baxter and Crosby, handled by Chip Benjamin
3rd: Madison and Wilson, handled by Robert York
MOST GLAMOROUS
1st: Sasha, handled by Tarcisio Buriti
2nd: Jolie Etienne, handled by Gustavo Win
3rd: Pasha, handled by Michael Glikes
BEST VOCAL PERFORMANCE
1st: Tooshy Pride, handled by Skyler Heavans
2nd: Swiss, handled by Michael Lindner
3rd: Madison, handled by Robert York
MOST ADORABLE – SMALL DOG DIVISION
1st: Ninja, handled by Carolina Mejia
2nd (tied): Hoshi, handled by Danielle Bujosa
2nd (tied): Celle, handled by David Ott
3rd: Lilly, handled by Marco
MOST ADORABLE – MEDIUM DOG DIVISION
1st (tied): Sammy, handled by Dale Sanders
1st (tied): Mocha, handled by Dale Sanders
2nd: Kloufie, handled by Jessica Blond
3rd: Rockie, handled by Suzanne Kloppek