In reality, a man was raised in a nuclear family in California. He grew up with a mother and a father and two sisters. When he was an adult, his mother died. Not long after, his father came out as gay. After his father's death, he fell in love.
In fiction, a man grew up as a single child, raised by a mother and a father. When he was an adult, his mother died. Not long after, his father came out as gay. After his father's death, he fell in love.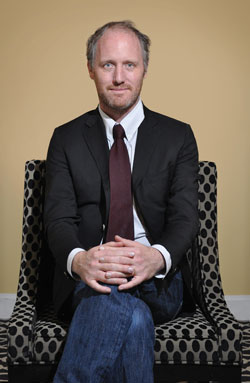 Mike Mills
There are other similarities, as well as other differences. In a nutshell, however, the fiction is Beginners, and the reality is that of the film's writer and director Mike Mills. And, as he explains it, making the movie gave him a way to continue the discourse with his father that he never got the chance to finish.
"That's what made me want to write this script," Mills says. "I really enjoyed thinking about my dad more, and all the conversations we had after he came out, these wonderful arguments we were having about love: What I could ask for. What I could hope for. What he did. What his choices were. I wasn't done having this conversation. He wasn't there anymore, but the relationship was still kicking around in me.
"And it was also just a great story. I thought my dad would've liked that: to have seen a movie with a 75-year-old gay guy that just came out. I thought that was a pretty amazing, positive story to put out in the world. Because I was such a close witness of it, I felt like I had the details to tell it in an interesting way."
Choosing just the right actors for a story so intimately a part of him was obviously important. Goran Visnjic steps out of steamy Slavic character to play Andy, the much younger lover of fictional father Hal. French actress Mélanie Laurent plays gorgeous vulnerability to sometimes heartbreaking, sometimes uplifting perfection. Mary Page Keller, as the fictional mother, appearing only in the protagonist's childhood flashbacks, nearly steals the movie. From frustrated acceptance at having married a man she knew to be gay, to her artistic edginess restrained by domestic convention, Keller captivates in every scene.
But casting Ewan McGregor as Oliver, the character modeled on himself, and Christopher Plummer as Hal, Mills scored a cinematic coup.
"I can't really think of an actor while I'm writing, or I'll end up doing a bad version of them," says Mills, who also wrote and directed 2005's Thumbsucker. "It just limits me. I just write, and then after there's this horrible moment of like, 'Oh, fuck, who's going to play this?' The tricky thing about this is I had to cast a father and a son together. There are so many actors that could play each of those roles, but they wouldn't have been good together. When the idea of those two came up, I was like, 'Holy shit, that's really good."'
Whether Beginners is a comedy is debatable. There are very amusing moments. There are moments for tears and moments for introspection. Not an easy mix for the marketing team, surely.
"I just did a TV [interview]," says Mills. "You have two minutes and they want you to encapsulate [the plot]. When I'm in that corner, I'll say it's about love, which is an incredibly vague answer. But it's not untrue. It really is about love and relationships."
While making Beginners didn't provide the resolution that might have comforted his soul, it did give Mills new insights.
"I knew about the Mattachine Society, but I didn't know that Harry Hay's house was right across Silver Lake from mine. I didn't know that [Allen] Ginsberg was writing 'Howl' blocks from where my parents got married, the same summer, the same year. I didn't know that Gilbert Baker did the [gay pride] flag in '78."
The filmmaker's sensibility about gay relationships, however, likely has far more to do with his relationship with his father than with his movie.
"This is such a backwards world that this is an issue. But where that really becomes crazy and violent is where you don't have rights to be with your partner in a hospital. Or your partnership is discredited when someone's sick, or with health insurance. Just in the basic, legal way that you're not considered equal. That is crazy. It's not just crazy, it's cruel."
Beginners opens Friday, June 10, at Landmark's E Street Cinemas, 555 11th St. NW. Call 202-452-7672.