The Washington Nationals pulled off a historic 6-5 win over the Seattle Mariners with a bottom-of-the-ninth home run that brought fans to their feet. But the start of the game held just as much excitement for many of those fans.
The seventh annual Team DC "Night Out at the Nationals" brought more than 3,400 LGBT fans to the Nationals Park stadium, where the game kicked off with the help of some of the community's most prominent notables.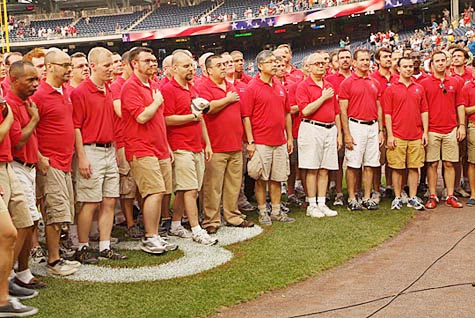 The Gay Men's Chorus of Washington sang the national anthem. Amanda Simpson, the first openly transgender presidential employee, presented the Nationals' lineup to the umpire. Daniel Hernandez, the gay intern who helped save the life of Rep. Gabrielle Giffords (D-Ariz.), threw out the first pitch. And Washington Post opinion writer Jonathan Capehart opened the game with the magic words, "Let's play ball!"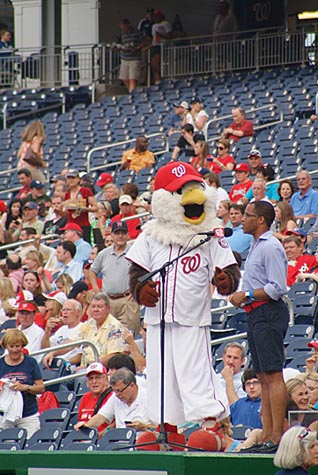 Hernandez admitted to a few nerves before taking the field for the pre-game ceremonies.
"It's been 12 or 13 years since I played baseball, so I'm a little rusty," he said. "It's been a long time since my Little League days back in Tucson."
Hernandez noted that Night Out at the Nationals is about more than a baseball game. "I really like the idea of being able to come to this because it's such a cool partnership between the Nationals and the LGBT community. It's really an example of how we can work to build allies."
For the LGBT fans who flocked to the stadium, Night Out is a mix of nostalgia and positive messaging.
"I have been a baseball fan since I was a little kid," said Clarence Fluker. "My mom was actually a sports fan and that's how I became a sports fan because she used to take my brother and I to baseball games in Cleveland all the time when we were kids."
Fluker added that Team DC's Night Out goes beyond Washington's LGBT community.
"I think it's a good thing for the community but I also think it's good for the external community when kids in the stands see [that] there are 3,000 LGBT people here because they like baseball. Then those kids can say, 'If they like baseball, I can too. I can be okay with being out."'
For Mount Rainier couple Jenn Lloyd and Karen Misan, Night Out is about being together.
"It's always good to make a showing and it's always nice to be among family," said Misan, who brought her mother and stepfather. "They don't know it's Nationals Night Out," she joked. "I guess we'll spring it on them later."
Whether or not that news was ever sprung, Lloyd said the evening was special for the entire community.
"It's always exciting to come when it's Night Out, because then you're with family."