Seven singers in drag and local drag enthusiast Cookie Buffet will perform at "Wig Aid Live," a benefit for the Wanda Alston House on Saturday, June 25, at Town Danceboutique.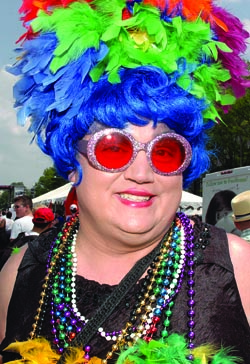 Cookie Buffet
(Photo by Randy Shulman)
The Wanda Alston House, a project of Transgender Health Empowerment, is D.C.'s only transitional home specifically for homeless LGBT youth – one of only a handful in the country.
Underneath Cookie Buffet's rainbow-colored hair and makeup is Christopher Dyer, director of former-Mayor Adrian M. Fenty's Office of GLBT Affairs. Since leaving that position, with the transition from Fenty to Mayor Vincent Gray, Dyer has also formed an advisory board to help raise money for the Wanda Alston House.
"My set list is always a secret," Dyer says with a laugh when asked about his upcoming performance. "But I'm thinking about doing a medley of the Violent Femmes and the Ramones."
Dyer explains that the event includes "live" in its title because no one will be lip-syncing, adding that some of the performers are also featured with the Gay Men's Chorus of Washington.
"There are not a lot of drag queens who can sing," he says, "so I thought it would be easier to find singers who can do drag."
Other organizations benefiting from Dyer's D.C. version of Wig Aid include the Sexual Minority Youth Assistance League (SMYAL) and Youth Pride, which Dyer founded. This June 25 Wig Aid is his fifth.
"The reason I am doing it for the Wanda Alston House this year is one of my prouder accomplishments when I was working in the mayor's office was helping get the Wanda Alston House get connected with funding," Dyer says. "So it's a natural fit for my fundraising and my so-called drag career."
Brian Watson, director of programs at Transgender Health Empowerment, says he and the transitional home's nine residents are particularly grateful for the help right now.
"We're running at a deficit," Watson says. "The budget that we got is not as much [to cover our expenses]. It costs about $25,000 a month to run the house. We get about $20,000.
"We always need groceries. We have nine mouths to feed every day, and they eat a lot. We always need donations like gift cards and [Metro] fare cards just to help them get back and forth from school and work and things like that. There's a list of the different types of things that we need on our website. There are always things that we need."
Wig Aid Live, Saturday, June 25, runs 8 to 10:30 p.m. at Town, 2009 8th St. NW. Admission $10. wandaalstonhouse.org.