A D.C. Superior Court judge sentenced Antwan Holcomb, 21, to 50 years behind bars for the first-degree murder of Anthony Perkins, a gay D.C. resident, on Thursday, June 30.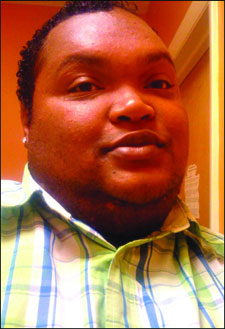 Perkins
Holcomb was also sentenced for other violent crimes involving other victims including assault with intent to kill, assault with a dangerous weapon and illegal possession of firearm.
In total, Judge Lee Satterfield sentenced Holcomb to more than 80 years behind bars. Holcomb was also sentenced to 15 years, to be served concurrently, for the armed robbery of Perkins, from whom he stole a pack of cigarettes after the Dec. 27, 2009, shooting.
The sentencing comes after a jury found Holcomb guilty of first-degree murder on March 1.
Perkins was 29 and lived with his mother in the District. According to the Metropolitan Police Department, he worked as a dispatcher for an air conditioning and heating company.
Before Satterfield announced sentencing, Perkins's mother, Stella Perkins, addressed the court with comments directed at Holcomb. Looking at Holcomb directly, she said, "I know how it feels now that I don't have a son. And now your mother won't have a son.
"You hurt your family. You hurt a lot of people. But you hurt yourself. … My son was gay and it didn't bother me, because he was my baby," she said, tearing up. "He wouldn't hurt a flea. You took away my heart. … I can't forgive you. God is going to have to judge you."
Stella Perkins, who was joined by friends of her son during the court sentencing, added that she hopes to never see Holcomb on the streets again.
"I wish they'd give you the death sentence."
U.S. Attorney Michael Liebman asked the judge for 95 years behind bars for Perkins's homicide and the other violent crimes for which Holcomb had been convicted, describing Holcomb as a "sociopath." Those crimes included the shooting of Bernard Harris, on Dec. 12, 2009, leaving Harris unable to walk.
Harris, along with Gays and Lesbians Opposing Violence (GLOV), submitted victim impact statements for Satterfield's consideration, while Liebman told the judge that Holcomb targeted Perkins because of his sexual orientation.
"He told police he targeted a homosexual because he believed a homosexual would not report the robbery," Liebman said.
A witness who knew Holcomb, according to the Metropolitan Police Department, testified during Holcomb's trial that he heard Holcomb telling others on the night of the shooting that he had shot "faggy" in the head and stolen a pack of cigarettes from him.
Before sentencing, the defense asked the judge for a lesser punishment of 30 years, arguing that Holcomb was "born into a family where he did not stand a chance." The defense claimed Holcomb suffered from mental instability that led to two suicide attempts, at the ages of 8 and 9, and also arson.
According to MPD documents, Holcomb met Perkins through a gay telephone chat line.
Holcomb spoke before sentencing, apologizing to Perkins's mother and telling his own parents, who were present, they were not to blame. His infant daughter was also present.
"I apologize for the death of your son," he told Stella Perkins. "I hope someday you find it in your heart to forgive me."