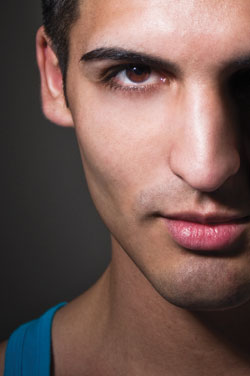 Jonathan Bascope
This year will be 24-year-old Jonathan Bascope's third year performing at the Capital Pride Festival. But this year also marks a first for the Northern Virginia native: He will not only be dancing with the DC Cowboys, he will have a "coming out" of his own — as a singer, taking to the festival mainstage on Sunday afternoon.
Bascope's path to singing came through his dancing.
"I got into the DC Cowboys a couple years ago," he says. "Last year, I started venturing into singing. One of the stage managers has worked in the music business before, so we started tackling [singing] projects. A year later, I'm performing in Capital Pride. It's really exciting!"
Only one year into his singing career, Bascope already has recorded two original songs, "Nightmare," which he co-wrote, and "Live My Life." With a remix of "Live My Life" out already, Bascope feels he's ready for Capital Pride.
"It's really the 'coming out' to D.C., as far as the songs are concerned. Not too many people have heard it, and it'll be a great venue for everyone to hear it," Bascope says.
"'Live My Life' is very much a Pride song, lyrically speaking," he continues. "It's a song about living your life the way you want to, as long as you're not hurting anybody. It's a good message, so I hope it will speak to the audience at Pride."
Looking ahead to the crowds he'll see from the stage at the festival, he adds, "There's a lot of young gays out there who are still figuring themselves out. If they're at Pride, I hope to reach out to them, too."
The festival will be a busy day for Bascope, whose first stint of the day will be with the DC Cowboys. But busy days are the norm. With a boyfriend of more than a year, Bascope – when not singing and dancing – works at a floral shop in Vienna. Having been out to his parents, family and friends for more than six years, Bascope definitely is living his own life.
Eager to keep performing and, hopefully, one day take on singing and performing full time, Bascope has only one fear for Capital Pride: the heat.
"I'm Hispanic," he says with a laugh. "But I don't do well in heat."
Jonathan Bascope performs Sunday, June 12, on the Capital Pride Festival Mainstage. For the complete Mainstage lineup, click here.