Ashland Miller and Laura Cerulli both feel like the black sheep of their respective families. "Neither of our mothers feels that way, oddly enough," says Miller. "[But] each of us has one older sibling, and both of them are in the six-figures, with the big house and all that." Not Miller and Cerulli.
"We're still [just] pickin' and a grinnin' in the beer joint, as my father likes to put it," says Miller.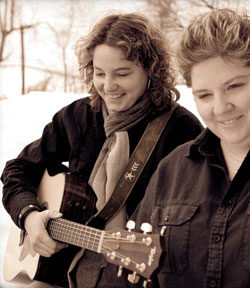 Mama's Black Sheep
The guitarist Miller and drummer Cerulli have both been rocking beer joints, not to mention festivals, for more than a decade now. They teamed up to form the folk-rock duo Mama's Black Sheep about two and a half years ago.
"I definitely feel like Laura's influence has changed me," says Miller. "She's very bluesy in her writing and in her style, the way that she plays. I feel like I've really grown in working with her."
The two met at a Maryland music festival in 2002. At the time, Miller was a guitarist in the country duo CommonbonD, and Cerulli was playing with another singer-songwriter. Cerulli would go on to work with CommonbonD as a guest drummer in the studio and on tour, in addition to working with her own band, Cerulean Groove. Cerulli was also in the popular Baltimore-based band SONiA & disappear fear.
Both have performed at Capital Pride as part of their various bands, but this year will mark their debut as Mama's Black Sheep.
"We are going to be a trio that day actually," says Cerulli, explaining that they will be joined by violinist Helen Hausmann. Over the course of a phone conversation, it becomes clear that Miller and Cerulli have a natural rapport. They generally like to share stories and anecdotes in between songs, though with just a 20-minute set, Miller laughs, "It's gonna be more like, 'Hello D.C. Pride. Hit it!"'
Mama's Black Sheep performs Sunday, June 12, on the Capital Pride Festival Main Stage. For the complete Mainstage lineup, click here.