Darrell Carrington, an at-large board member of Equality Maryland Inc., the lobbying arm of Equality Maryland, met with other board members of the organization on Thursday, June 2, with an offer.
"I had presented a proposal to the board to try to, in my estimation, save the organization," Carrington says.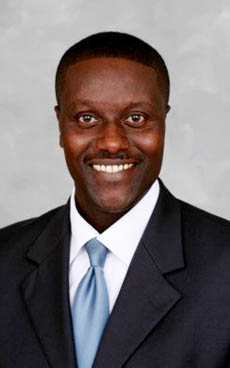 Darrell Carrington
"It's well-known and it's well-documented that we've been having some financial difficulties, and I came up with a plan which I thought was going to be effective. I had a donor who was willing to contribute a substantial amount of money – $500,000 – but there were some conditions. One of those conditions would be for the current board members to step down and bring in a new management team."
Carrington announced his resignation today, June 6, after Patrick Wojahn, board chair of Equality Maryland Foundation, the organization's educational arm, advised him by phone that the organization had rejected the offer.
"The reasons they gave for rejecting the proposal was because they said they wanted to work within the community to try to find some solutions," Carrington says. "While I'm a straight person, I think I've demonstrated over the years my commitment to the issues, so that was a little disappointing. You can only do so much. I did the best I could. I gave this solid proposal, but it was rejected."
Wojahn confirms that both Equality Maryland boards, voting jointly, rejected the offer, pointing to a "number of reasons."
"The primary one is that we've been hearing a lot from the community over the past few weeks about how the organization needs to be more transparent and more accountable to the community," he says.
"The offer that was presented to us basically consisted of a wholesale takeover of the organization from a number of people who, with the exception of Darrell, had not been involved with the LGBT community or the movement in the past."
Wojahn says the organization was given "a few days" to make the decision.
"We felt that if we were going to consider such an offer, and unfortunately there was a very short time to consider it, that we shouldn't do so without further communications and dialogue with the community about the proposal."
Wojahn says the offer required that Carrington and two other individuals "take over both boards." Like Carrington, Wojahn would not disclose the names of the other two individuals, citing a request made by them.
"I'm surprised," Carrington says of the decision. "I'm disappointed. I know the board wants to save Equality Maryland to the best of the their ability and I'm really rooting for them. I hope that they will do so."
The developments come less than a week after Charles Butler, board president of Equality Maryland Inc., resigned.
The remaining Equality Maryland Inc. board consists of at-large members David Lublin and Mark Yost Jr.; treasurer Rosemary Nicolosi; and secretary and vice chair Lisa Polyak. The foundation board is composed of Wojahn as chair and Nicolosi as treasurer.
Equality Maryland also announced last week that interim Executive Director Lynne Bowman's focus has shifted as a result of the organization's financial crisis.
Bowman says leadership at Equality Maryland is currently crafting a plan to save the organization.
"I'm more positive about the future of Equality Maryland today than I was when I walked in the door on May 1st," she said, speaking to Metro Weekly June 2 from her home in Columbus, Ohio.
"That's not a load of b.s. for you. That's the truth. Everybody is very, very focused on making sure that they create an organization that the community can support that has the financial funding structure to move it forward successfully."
According to Bowman, the current staff at Equality Maryland, two contractors and three full-time employees, will be there at least until the end of June.
"Our goal in the month of June is to keep the resources to keep folks involved in the operations of the organization, hopefully to the same degree that they are right now. It's really going to depend on whether or not the financial support is available."
Bowman adds that she herself is working on a month-to-month contract as a result of the financial crisis.
"At the end of June we will re-evaluate where we stand," she said, adding that she will be working from her home in Columbus for half of the month, and the other half in Baltimore at Equality Maryland's headquarters.
"My goal right now with the organization and with the board is to create an immediate short-term strategic plan to get the organization through the end of the year that will address governance, board nominations and the process by which new members will come on the board, fundraising, internal operations and external relations, community building. That's our immediate focus."
When she joined Equality Maryland on May 1, Bowman was hired at a monthly rate of about $7,000. Her focus was to serve as Equality Maryland's full-time executive director, "to keep the trains moving," she said at the time, "and to help the board grow and bring in a new executive director."
"With some of the financial information that came to light towards the end of May, the focus has had to shift."
"It's not about keeping the trains moving anymore. It's about building a new organization both financially as well as with the board, and internal operations," she said, adding that her contractual amount has also been reduced to $5,000.
Bowman said she knew the organization was not "at a place where it wanted to be." And while some fundraising was done in April and May, Bowman said last week that it still has a ways to go.
"I don't think anybody knew at that point, including previous staff, previous or current board members, I don't think anybody had a real solid sense of what the real urgency of the financial situation was," she said.
"One of the challenges with Equality Maryland's funding model has been a heavier reliance than other statewide LGBT organizations in the nation on large sums of money from foundations, national organizations and funders, rather than building up a really strong base of state-based individual donors."
Bowman said that piece needs to be increased in order to build a strong, stable, Maryland-supported statewide equality organization.
"I think this organization has an opportunity to create something that is truly community-based, that has the buy-in and support of the entire statewide pro-equality community."