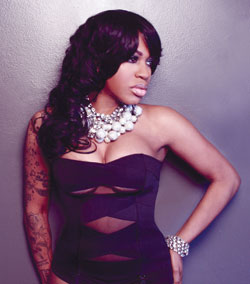 Lil' Mo
"In all the years, and all the people that I've worked with," Missy Elliott recently told Lil' Mo, "no one has ever done a tribute to me."
Hip hop superstar Elliott called Lil' Mo to personally thank her after hearing Mo's new mixtape. Mo sings her heart out giving props to Elliott on the track "Big Sister."
"A lot of times we wait until somebody is gone," says Lil' Mo. "We don't give them their flowers while they're still here. And sometimes, you can just write a song or say something to somebody, or just send them a text message, and it'll make their day.
"It just made me feel good to know that it made her feel good."
Mo talks to Elliott every week. "Every album I've done, she's had before anybody else," says Mo. "Just because I value and trust her opinion. She's like my silent A&R."
A dozen years ago, Elliott took Mo under her wing after hearing a few demo tracks. She was bowled over by the power of Mo's pipes. Mo then sang the chorus to Elliott's hit "Hot Boyz," among other tracks from Elliott's 1999 album Da Real World. Mo went on to spend a couple years as the go-to belter for rappers, including Jay-Z, Ja Rule and Fabolous. They tapped Mo to sing the hooks to their tracks, making them more appealing to the mainstream.
Over the years, Lil' Mo has earned praise from others in the industry. Cyndi Lauper, for one, once told her that among many renditions, she favored Mo's "churchy" cover of "Time After Time," included on Mo's 2001 debut album Based On A True Story. "I was like, 'wow,"' says Mo, "Cyndi's loving me. This freaking rocks!"
After devoting time to motherhood the past several years, the 32-year-old is pushing hard to get back into the game. Until recently, she hosted the afternoon The Lil' Mo Show on the D.C. radio station WPGC 95.5. Now, she's refocusing on music, having recently released one mixtape as a free download from her website. She plans to release a second mixtape around Father's Day, to be followed shortly by a new album, P.S. I Love Me, the title of which she says signifies the importance of loving oneself before attempting to love others.
"My fans [have been] like, 'We want more music Mo," she says. "So I'm ready to flood the streets with some music.
"I already done had all the kids I'm gonna have," she continues. "That's three, I'm good." She has two girls, Heaven and God'Iss, ages 8 and 6, and a son, Justin, who's 2. Justin was "yelling and singing" all throughout a recent interview. "He thinks he's Justin Bieber," says Mo. The family lives just outside Baltimore.
"My kids keep me pretty lively," says Mo, who certainly comes across as if she has a steady bundle of energy. "I'm [like] a little rabbit. Just in general, everybody says I'm always on 100. On stage, I don't think I know how to calm down. Music just does something to me. And I see what it does to me, it does to my kids. Whenever your favorite song comes on, it just does something to your whole mind, body and soul."
Lil' Mo is eager to perform at this year's Capital Pride.
"Had it not been for the whole community, I probably still wouldn't be Lil' Mo," she says. "Consistently, the gay community keeps me working, and they just love my songs, and I just live for the kids."
But it's not just the songs. There's something about Mo that keeps the gays in line. Born Cynthia Loving, she certainly lives up to her family name.
"I'm so out of the box, I'm so open-minded," says Mo, when asked why she thinks the gays are such committed supporters. "And I'm churchy, [but] I'm not one of the church people, 'Oh, you can't do that.' I don't believe in taboo. Everything to me is like, Live your life, do what you want to do, that's your business. I'm a lover of all."
She was born on Long Island, New York, and got her start singing early. "My aunt was a choir director, and had us in the choir at the age of three," she says. "I had my first solo at four. I cried the whole time, so I don't know how she saw it in me, but she just knew from there."
Lil' Mo developed her recording name with a friend. "I was thinking first my name was going to be Sassy C," she says, laughing, "but I was like, who in the hell wants to be like, 'where's Sassy C?"'
She didn't want to go with her real name because it's the same name as her mother. "I didn't want to make fun of it. I don't want people to think I'm a porn star. My real name just seems so pornish to me."
They eventually settled on Lil' Mo, since "I'm always asking for more and more and more. [And] it's the easiest thing to remember. You say it everyday: 'Can I get a lil' mo Equal in my coffee?"'
Lil' Mo comes across as a sweet, magnanimous person. She gives thanks not only to the woman who jumpstarted her music career, or to the gays who helped keep it going all these years. She's also always thinking about the less fortunate, such as those who may be struggling to make ends meet but in need of a little joy in life.
"If I'm down to my last 10 dollars," Mo says, putting herself in a fan's shoes, "I could buy something to eat or I could buy an album. Will I fast or starve, or will I feed of this music?
"That's why I always believe in doing good music," she says, "because you never know who's down to that last 10 dollars, that will spend that on you. I always try to remember that it's not about me."
Mo is also a strong-willed person — "very Mo'pinionated," as she puts it — who works hard to stay grounded.
"I know that if I fall and scrape my knee, red blood is going to come out," she says. "I realize that I'm emotional, I'm human. The more and more that I stick to my human side, the more and more people gravitate to me.
"As soon as you start acting like your booty don't stink, that's when a lot of people start to turn away from you."
Lil' Mo proves that the opposite is even more true. A lot of people, in fact, definitely want Lil' Mo.
Lil' Mo performs on Sunday, June 12, on the Capital Pride Festival Mainstage. For the complete Mainstage lineup, please turn to page 115.