[UPDATE: On June 16, Safeway announced that it has terminated the cashier mentioned in the following story]
Jason Morgan and his partner Brendan Harrington stopped by their local Safeway grocery store, one block away from their condominium on the Southwest waterfront, to pick up dinner on Saturday night.
"It's literally one block away from home, and we've loved it," Morgan says. "We've used it nearly every day."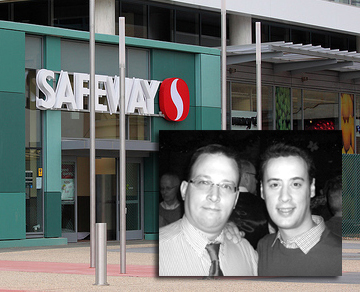 Harrington (left) and Morgan
But the love affair with the Safeway at 1100 4th St. SW came to an end on June 11, leaving the couple feeling extremely insulted.
"We put our groceries up on the conveyer belt, some frozen dinner and wine, and [the cashier] said, 'Oh God, they're faggots,"' says Morgan. "And then Brendan said, 'I'm sorry I didn't hear what you said.' And she said 'You guys are fucking faggots."'
When the couple asked the cashier for her name, they were told it was "D'Angela." Morgan adds that she did not show any remorse for her comments.
"We just couldn't believe it," he says. "She didn't seem apologetic or anything. We asked her for the store manager and she just ignored us. So we ended up leaving our groceries where they were and we walked [away]."
After the couple asked another cashier to see the store manager, they were directed to the assistant manager who said she could not help the couple. Morgan says she gave the couple the store manager's information, whom she identified as Michael Bigelow.
The couple filed a complaint with the D.C. Office of Human Rights on June 13 regarding the incident.
Morgan is a waiter at Bullfeathers on Capitol Hill, while Harrington has worked as a bartender at JR.'s since 1998. They've been together for three years and have lived in their current home near Safeway with their cat, Walter, since November. And while they've lived in D.C. for several years – 14 for Harrington, eight for Morgan – they say this is the first time they've experienced this level of homophobia.
"I've never been called a 'fag' ever in my entire life," says Harrington. "It was absolutely appalling. We were standing there minding our own business, not even talking to one another. [Morgan] was reading the [National] Enquirer, and I was putting the stuff on the belt, and all of the sudden the checker is saying, 'They faggots."'
The incident occurred on the same day as the Capital Pride Parade, during which Harrington was working at JR.'s, what he describes the "busiest day of the year" at the bar.
"My feet hurt, my back hurt…. All we wanted to do was get a bottle of wine and some dinner, and the checker was calling us fags," Harrington explains. "I was speechless."
Morgan says despite several calls and making two visits back to the store in hopes of speaking with the manager, he has not been able to reach Bigelow.
"Each time we were told he just doesn't work those days. I feel like we got a runaround from them," Morgan says.
Since the incident, the couple has, however, received two calls from people representing Safeway. The first came Sunday, June 12, from the store's assistant manager with whom they spoke initially.
"The assistant manager called and said, 'We're really sorry about what happened, but we're still trying to figure out how to handle it'," Harrington says.
By the time the second call came, Wednesday, June 15, this one from the Safeway Eastern Division offices, Morgan advised the Safeway representative that he no longer wishes to speak to anyone with Safeway until he and Harrington have secured legal representation.
As of June 15, the Safeway Eastern Division public affairs office had not responded to a Metro Weekly query. Bigelow declined to comment, referring questions to that office. [UPDATE: On June 16, Safeway responded to Metro Weekly, offering Morgan and Harrington an apology].
In the meantime, Morgan and Harrington have avoided their local Safeway, instead choosing the Whole Foods grocery story at 14th and P Streets NW, although they have no car.
"Now we have to worry about paying for cabs to the grocery store and getting us back. The Safeway being one block away was a huge part of our decision to buy a home there," says Morgan.
"I would like an apology," he adds. "I'm 34 and I can handle this. I can't imagine how someone who is 19, who is new to the city, would have reacted to being called a 'faggot' at their local grocer. I hope they terminate the girl who works there."
Harrington, speaking by phone from Houston where he is visiting his ailing mother, says the incident has left him humiliated and angry.
"I shouldn't have to put up with this when I'm buying groceries. It's disgusting."
UPDATE: After reading Metro Weekly's report, a local resident went to Safeway and asked the cashier to apologize. Watch the video in "Video Apology."