Don't be late for Night Out at the Nationals. The festivities begin before the first pitch, and include a host of LGBT notables.
Team DC encourages attendees to arrive no later 6:30 p.m. for the pre-game ceremonies, including the crowd-favorite Gay Men's Chorus of Washington singing the national anthem. And this year, Team DC has invited Daniel Hernandez of Tucson, Ariz., to throw out the first pitch.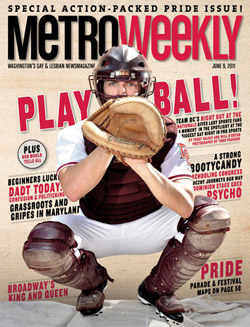 Hernandez, who will be honored during the pre-game ceremonies, gained national fame as the gay intern who helped save the life of Rep. Gabrielle Giffords (D-Ariz.) after she and several others were shot on Jan. 8. Amanda Simpson, the first transgender presidential appointee, will also be on field for the pre-game ceremonies. As will Washington Post columnist Jonathan Capehart, who will open the game.
"I get to say 'Are you ready Washington? Let's play ball!"' Capehart says. "There are very few things that civilians can do in sports. You can throw out the first pitch, you can do a coin toss, and you can say 'Let's play ball' at a baseball game. The fact that I get to do that just has me super nerdy over-excited."
While he wouldn't describe himself as a sports enthusiast, Capehart grew up with baseball. "When I was a kid I used to go to baseball games at Yankee Stadium with my aunts and uncle in the Bronx a lot. There's just something very nostalgic to me about baseball."