It might sound silly or superficial, but you just might fall in love with actor and dancer José Manuel Ozuna-Báez, who's starring in GALA Hispanic Theatre's latest show, Canto al Perú…Celebrating Afro Peru! Certainly Ozuna-Báez has the power to seduce with his almost show-stopping, near-permanent smile and expressive sensibility, right down to the hypnotic way he moves his shoulders and his hips when he dances.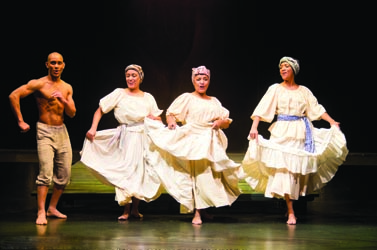 Canto al Perú
Did I mention he performs shirtless and in loose cotton shorts the entire first act?
Technically speaking, no one falls in love in Canto al Perú, a musical GALA commissioned and is now premiering. There's no specific story to follow, much less a love tale. Instead, Canto, performed in Spanish with English surtitles, mostly just relates the general plight and history of Afro-Peruvians.
GALA deserves credit for not taking the easiest or most obvious route to interest theatergoers in a show that focuses on a broad topic — that is, the creators didn't center on two people forming an obvious relationship, providing the audience a sense of the bigger picture through their trials and tribulations.
Still, even with the titillating concession of having Ozuna-Báez and another chiseled male dancer perform shirtless while portraying hard-laboring slaves, GALA struggles to keep the audience enthralled. The musical is a bit of a dry — at times academic — exercise in storytelling. Music is also less of a focus than one might wish, given the rich and influential base it has to draw on.
In fact, at a recent performance, Canto initially threatened to be a surprisingly passionless affair. The actors seemed a bit slow to rise. It took even the dazzling Ozuna-Báez a song or two to warm up.
Canto roughly traces the journey of Afro-Peruvians over the course of the past few centuries. The show starts by relating the serious abuse and degradation suffered by the first Africans brought to Peru to be slaves. Toward the end, a couple of the Washington-area actors, essentially playing themselves, share the basic outlines of their Peruvian ancestry. The second act also features some discussion about current issues of racism and sexism in Afro-Peruvian culture today.
Throughout, writer Gabriel García employs a somewhat heavy hand, with the stories and folktales sometimes tipping over from being educational to being too earnest, even preachy. Scenic designer Mariana Fernández, who has previously designed some wild and whimsical sets for GALA, gives us a mostly barren, stark set that doesn't do the often leaden text many favors. You don't get much sense of shifting time or place. Musical director Yuri Juárez has done a satisfactory job of arranging contemporary songs to fit the show, working as best he can with a musical that puts more focus on words. (Perhaps it says something that Juárez's biographical note was printed as a last-minute insert in the program.) At least Aramis Pazos-Barrera does a wonderful job with the lively choreography.
Ultimately, the show gains the most energy from the work of its performers — including all six of the musicians. In particular, percussionists Jefferson Pajuelo on cajón, Martín Zúñiga on bongos and Marciano González on congas provide a few transfixing improvisational performances. The percussionists display in full glory the complicated rhythms of the Afro-Peruvian musical style. And they try to spell it out too: At one point at show's end as the percussionists play, a few audience members are selected to join the cast onstage in a short group dance. It's harder to dance to those poly-rhythms than you might think; the cast only makes it look easy.
CANTO AL PERÚ



To June 26
GALA Theatre at Tivoli Square
$34 to $38
202-234-7174
galatheatre.org
It turns out the show's powerhouse lead performer Vicky Leyva is the mother to two fellow actors in the show, Vanessa Díaz and Susan Duston. GALA's Hugo Medrano credits Leyva in his director's notes for being chiefly responsible for Canto's existence, having leaned hard on him to put it together. He also says Leyva, a popular Peruvian singer now based in Washington, wanted to reunite more of her family by having them perform in the show, but scheduling conflicts made that impossible. Certainly, that would have added interest.
Even as it is now, the show would have been improved if it had explored more of the relationship between mother and daughters. It would have helped personalize the story, giving an audience member something to reflect on more substantial than anything else bordering on the superficial.
Oh, and did I mention José Manuel Ozuna-Báez performs in a tight muscle-T and jeans in Act 2?