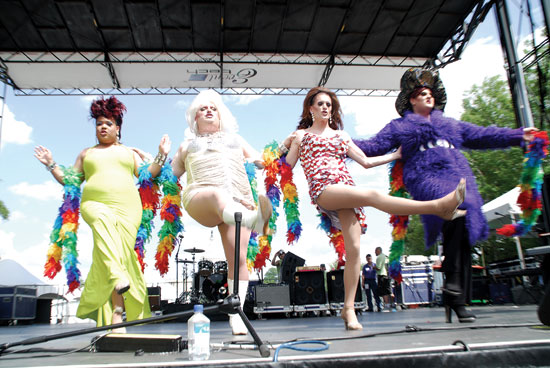 As of press time. Times, where noted, are approximate. Performers and schedule subject to change without notice.
Mainstage
3rd & Pennsylania NW
ALL DAY
DJ Steve Henderson returns for his sixth year to spin between acts on the Mainstage as the Official DJ of Capital Pride. Although now a resident of Chicago, the Baltimore native still spins regularly on the East Coast, including monthly at Ziegfeld's/Secrets. He also volunteers his time as the entertainment chair for Pride.
11:30 a.m.
The Lost Bois
Born and raised in D.C., the two young artists A.O. — which stands for Awkward Original — and B. Steady teamed up a couple years ago as the Lost Bois to make "queer hip-pop," with a little jazz thrown into the mix. The mission is "to make wacky and silly music for the most serious of strugglers."
Shadina
Goddaughter of Otis William, creator and sole-surviving member of the Temptations, Shadina has R&B in her roots. You could say she was Born For This, to adapt her latest album's title. She's opened for Mary J. Blige, Alicia Keys and Trey Songz, and now stops in D.C. after past performances at Pride events in Houston and Baltimore.
Fire in the River
Earlier this year D.C. songwriter-musicians Stina Janssen, Dahna Goldstein and Sumner McRae joined to create a folk/indie-pop trio, with three-part harmony and a name that reflects both the band's rootsy sound and sensibility.
Noon
Crys Matthews
Combining elements of Jill Scott and Otis Redding, along with a sprinkling of Tracy Chapman, Matthews's mix of Americana, blues, folk, R&B and jazz adds up to her own original blend.
Singing guitarist Ashland Miller was a member of the duo CommonbonD, while singing drummer Laura Cerulli has fronted her own band Cerulean Groove and toured as part of SONiA & disappear fear. Together, the Baltimore-area twosome blurs the boundaries of soul, country, pop and folk-rock. Violinist Helen Hausmann joins them for a special Pride performance.
Bettina Schelker
The John Lennon International Songwriting contest honored Swiss singer Bettina Schelker for her ravishing "The Honeymoon is Over," the title track to her recent album. The song references the discrimination she encountered in trying to book a honeymoon celebrating her civil partnership with the American former professional basketballer Ina Nicosia.
1 p.m.
Michelle Raymond Band
Raymond, also known as M-Ray, won Gay Pride Virginia's 2008 Battle of the Bands. The Richmond native now resides in D.C. and has won locals over to her "acoustic folk with a little funk and jam." This is her four-piece band's second consecutive performance at Capital Pride.
Jonathan Bascope
Well known as a dancer with the DC Cowboys, singer-songwriter-pianist Bascope is now drawing attention for his catchy original dance-pop tunes, such as the new N'Sync-styled, affirming single "Live My Life" ("I just wanna be free, I just gotta be me").
FORD & The Psychonauts
Aiming to merge new wave rock with psychedelia and spirituality, Atlanta-based music producer FORD's band echoes Depeche Mode, U2 and the Cult, but with thought-provoking lyrics exploring consciousness and the self.
2 p.m.
Blair Michaels
She may have recently moved to Buffalo, but this Bowie, Md., native spent nearly three decades donning drag in D.C., a career capped off with a 2009 Capital Pride Hero award for all her volunteer work and appearances. No way would she miss Capital Pride. This year will mark her 15th appearance on the Pride Mainstage.
Lil' Mo
The singer of many hit hip hop hooks for the likes of Missy Elliott ("Hot Boyz"), Fabolous ("Superwoman") and Ja Rule ("Put It On Me"), Baltimore-area-based Lil' Mo hosted a daily radio show on D.C.'s WPGC-FM until earlier this year. Now, she's putting final touches on a new album, P.S. I Love Me — and giving lots of love back to the gay fans who have supported her from the beginning.
Drag City DC
Shi-queeta-Lee's in-the-works reality series goes behind the scenes of drag. Stars Lacountress Farrington, Chanel Deveraux and Tyria Iman and Lee herself will take over the Pride Mainstage.
Jenna Drey
The clearly ABBA-influenced, Miami-based dance-pop singer has won many pop songwriting contests, including VH-1 Save the Music's Song of the Year Competition. She's been churning out a steady stream of sturdy songs for years, from "Killin' Me" to "By The Way," as well as a few surprising dance covers, including Air Supply's "All Out of Love" and '70s ballad "We're All Alone."
DC Gurly Show
Having grown out of local drag king organization the DC Kings — and still performing with them monthly — the DC Gurly Show isn't your grandfather's burlesque. It's focused more on playing with gender than teasing with sex. Anybody can perform, as any gender, no matter how they identify. The focus is on expression and creativity.
Gay Men's Chorus of Washington, D.C.
The largest gay men's chorus in the country, with more than 275 singers, and one of the best choral groups in a city chock-a-block with them, the 30-year-old chorus is a local social institution that often takes a cheeky approach to its choral repertoire, and extravagantly dresses the part.
3 p.m.
Freddie's Follies
The fiercest drag queens in Northern Virginia step out of the beach bar and travel across the river to perform at Pride, led by show creator Destiny B. Childs, a 2010 Capital Pride Hero.
Conseulo Costin
An aspiring dance-pop singer with a soft, whispery voice, the Los Angeles-based Costin, born into the Vanderbilt family, comes to Capital Pride to perform her recent singles "Feel So Alive" and "Naked."
E-Cleff
Formerly a performer with the DC Drag Kings and ROCKETT, Ebone Bell's male alter-ego is a popular entertainer who energizes everyone in the crowd (although, she notes, "it's always for the ladies!").
Sue Nami
With the beauty of a goddess and the talent of a Broadway star, it's no surprise Sue Nami has taken D.C. by storm. Right now, her wave has crested as Miss Ziegfeld's 2011. But she's sure to peak even higher.
Ella Fitzgerald
Creator of the 28-year-old "Ladies of Illusion" show at Ziegfeld's and called by some a "Hurricane on Heels," Fitzgerald is D.C.'s First Lady of Drag. Sometimes the smallest big mouth in town can impart the biggest treasure. She has performed at every pride but one.
Ziegfelds' Ladies of Illusion
D.C.'s longest-running drag show, Ziegfeld's Ladies of Illusion have been wowing crowds for nearly three decades. They even manage to get gay boys to take a break every now and then from gawking at naked Secrets dancers — no mean feat.
4 p.m.
Venus D Lite
Adam Guerra — as drag queen Venus D Lite — has dedicated his career to expressing himself as the world's leading Material Girl impersonator. He just released his debut single "I'm Not Madonna," which relates his main message: Impersonation is the sincerest form of idolatry.
Jen Cuneta
Cuneta sings the hook to Venus D Lite's new single "I'm Not Madonna," and she'll join him at Capital Pride to do just that. But the Filipino-American will also sing her own new dance-pop tunes, including "I Want That Man."
The DC Cowboys
The cowboy boot-wearing dance troupe kicks up a choreographed Broadway-tinged, country-western storm. But it's their often-shirtless performances and suggestive moves that get the Capital Pride crowd swooning. Like the chorus and Ella, they're an annual Pride tradition.
Zayra"
The Puerto Rican Zayra is better known to many as an aspiring lead singer for heavy-metal supergroup Supernova. She was eliminated from CBS's Rockstar Supernova competition in week seven, but not before the Los Angeles Times called her the show's "most intriguing contestant." Her latest single is "Baby Likes to Bang."
The Ladies of Town and X-Faction
As seen every week at Town Danceboutique these drag queens and dancers perform choreographed, lip-synched routines to dance-pop numbers that would make Britney Spears and Kei$ha green with envy.
5 p.m.
Sabrina Johnston
Sabrina Johnston is responsible for the infectious, indelible dance song "Peace (In The Valley)," a big club hit in 1992 — a version was even included on the AIDS-benefiting compilation Red Hot + Dance that year — and it still gets steady play today. Johnston also sang backup for Lauryn Hill on "To Zion" on The Miseducation of Lauryn Hill. She's working on new material.
Jennifer Holliday
The original dreamgirl brings her thousand-watt voice to the pride stage, and is sure to end things on a high note. And we're telling you, we're not going anywhere until Miss Holliday is finished singing.
Bud Light Rainbow Stage
Sixth & Constitution NW
DJ Frenchie B. Couture (11:30)
Big Daddy (Noon)
London BaCall (12:04)
Terri Santana (12:08)
Sue Nami (12:12)
Cee Cee Leone (12:16)
Lucy Lexipro (12:20)
Kristina Kelly (12:24)
The New Mr. Capital Pride (12:28)
The New Miss Capital Pride (12:32)
Onyx D Pearl (12:36)
Tyra Starr (12:40)
Arione DeCardeza (12:44)
Jayda Knight (12:48)
Taylor Morgon DeCardeza (12:52)
Gigi Lamone Spaulding (12:56)
London Monroe (1:00)
Enigma Foxx (1:04)
Dre (1:08)
Stevi Starfyre (1:12)
Sasha J. Adams (1:16)
Isis Deverreoux (1:20)
Coco L. Blackwell (1:24)
Tiffany Nicole Blackwell (1:28)
Gucci Rene Blackwell (1:32)
Tiffany Deverreoux (1:36)
Jamiaca Rouge (1:40)
Kuriosity Lee Adams (1:44)
Electra B Voche (1:48)
Xavier Bottoms (1:52)
Sierra Spaulding (1:56) Stefon Royce Iman (2:00)
Eric Rainbow (2:04)
Noah Callahan (2:08)
Anna Steasya (2:12)
Bambi Jozet Adams (2:16)
Yamoan Adams (2:20)
Nova Starr (2:24)
Angel Butterfield (2:28)
Gracie Freebush (2:32)
Bona Fyde (2:36)
Parris C. Bello (2:40)
Coda Fatts (2:44)
Xavier Cole (2:48)
Brian Watson (2:52)
Ivanna Black (2:56)
Shelby Bottoms (3:00)
Christian Amir France (3:04)
Jasmine Blue (3:08)
Miranda Rights (3:12)
Yoneeda B. (3:16)
Danielle Revlon (3:20)
S.W. Tracy (3:24)
Jayda B. Douglas (3:28)
Chanel Van Cartier Couture (3:32)
Phoenix Amber Bloomingdale (3:36)
Ophelia Bottoms (3:40)
Stephanie Michaels (3:44)
Dillon Dalton (3:48)
Eva Lastrange (3:52)
Yarde Noire (3:56)
Charity Suade (4:00)
Blair Michaels (4:04)
Sebastian J. Adams (4:08)
Windz (4:12)
The Vixons (4:16)
Maxine Blue (4:20)
Ladi Lenore Cunningham (4:24)
Ladi Toni (4:28)
ESQ (4:32)
Private Tales (4:36)
Rocky One (4:40)
Tia Bloomingdale (4:44)
Aurora Fontaine (4:48)
Raquel Savage (4:52)
Private Tales (4:56)
Brandonna Dupri (5:00)
Grena Dean (5:04)
ShadeZ (5:08)
Shelby Bottoms (5:12)
Rocky One (5:16)
Stephanie Michaels (5:20)
Charity Suade (5:24)
Eva LaStrange (5:28)
Sammy Smooth (5:32)
Alexea Breeden Kelly (5:36)
Ophelia Bottoms (5:40)
Shi-Queeta Lee (5:44)
Tammy Taylor Stephens (5:48)
Riviera Chalet (5:52)
Terena McCray (5:56)
Big Daddy (6:00)
Arts Corner
Sixth & Pennsylvania NW
Times TBD. Please check metroweekly.com or capitalpride.org for updates.
DC Different Drummer Marching Band
DC Lambda Squares
DC Swing
Fortisima
Nuance
Oasis Dance Company
Special Agent Galactica
Tiik with GUTS
Wicked Jezebel