"After one of the performances, someone asked, 'You do this a lot?"'
That's a typical response Christopher Gillespie is getting playing a woman in Dominion Stage's Psycho Beach Party.
For the record, Gillespie, who's acted locally in plays at Keegan Theatre and American Century Theater in addition to Dominion, has only ever acted in drag once before, in Dominion's Reefer Madness. For the last show at Dominion, Best Little Whorehouse in Texas, he played a macho sheriff.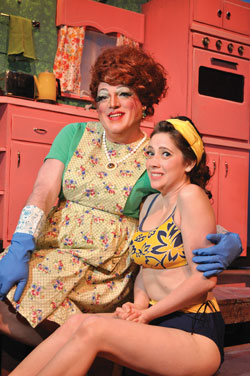 Psycho Beach Party
"The cast is hitting it out of the park," says Dave Moretti, Dominion Stage's volunteer president and producer of Psycho Beach Party. "Chris, who's playing Mrs. Forrest, is just hysterical to watch. A phenomenal choice."
But wait a minute. Dominion Stage, a community theater in Virginia, is staging Charles Busch's campy, edgy Off-Broadway play from 1987?
"We really strive to pull in edgier, more thought-provoking types of shows [for] a more sophisticated audience," says Moretti. "Stuff that you would not normally see from a volunteer community theater organization."
Dominion Stage has been around for over 60 years, originally founded as the Fairlington Players. When Moretti, a local actor who works for a healthcare IT network by day, came on board over four years ago, Dominion was putting on safe, "family friendly" fare like Tom Sawyer. He immediately changed course.
"We focus more on adult themes [now]," he says. "We don't shy away from the nudity, we don't shy away from the profane language or adult situations." From Whorehouse to Love! Valour! Compassion! to Jeffrey to, next fall, Take Me Out, pretty much all of Dominion's shows have some level of gay appeal. The board consists of both gay and straight members, says Moretti, who's gay.
Moretti notes that since the shows are staged at a middle school theater, Dominion is voluntarily careful to alter show titles listed on the marquee (no Whorehouse or Reefer, for example). "But whatever happens on the stage," he says, "has always been very well supported and very well received by the folks in Arlington."
"[Psycho Beach Party] is a real good show to just go and have a little bit of campy fun, especially on Pride weekend," says Moretti. The play, which mashes up '60s-era beach movies and Hitchcockian suspense thrillers, focuses on Chicklet Forrest, a teenage tomboy with split personalities who desperately wants to be part of the popular surf crowd. In most productions of the play, Chicklet is played by a man. Dominion's director Emily Ann Jablonski switched the script, casting a woman (Ashley Bacon) in the role, and Gillespie as her mother.
"It was just one of those things where you look at your talent that comes out," explains Moretti, "and you ask yourself, what's going to be the best fit and mix for this? [Gillespie as Mrs. Forrest] was the right fit."
"[Mrs. Forrest] is a little bit like Joan Crawford," Gillespie says. "She's got some major intensity. Mrs. Forrest is very controlling and very uptight, especially when it comes to sexuality and her daughter."
Gillespie is very familiar with Pscyho Beach Party. He's twice directed student versions of the play at the high school in Arlington where he teaches theater. "We did like a cleaned-up version of the show," he says.
In Dominion's production, Gillespie is playing Mrs. Forrest as more of a gender-bending actor than as a drag queen. (Think Divine as Edna Turnblad in Hairspray.) "It's a bit toward over the top, but still within the limits of believability."
Call it a psychotic edge.
Psycho Beach Party runs this weekend and next at the Gunston Arts Center, 2700 South Lang St. Arlington. Tickets are $15. Call 571-377-4697 or visit dominionstage.org.