There are two ways to consider Synetic's humorously sincere Don Quixote. The first is for those who have yet to sample the strange and wonderful waters of Synetic's innovative physical theater. And the second is for those who have immersed themselves regularly. If you have never taken a seat in Synetic's spacious Crystal City venue where, more often than not, you will be greeted by a stage that awaits its dancers with an enticingly dark, sometimes slightly foggy, expectancy, then Quixote is a fine production in which to dip your toes. If you, like many, have been avidly following this exciting and original company, you will be entertained and occasionally transported, but not necessarily wowed.
Still, packed full of the things Synetic does best, Quixote fully embraces the company's unique brand of holistic storytelling in which dance, movement, sound and voice play equal part. With his usual clarity, director Paata Tsikurishvili draws these textures together into a strong, resonant narrative, even as he courts the surreal. Thus, you will recognize the milestones of Cervantes's tale as Quixote chases his phantoms and pines for the ever-elusive Lady, Dulcinea, but you will also never have seen a windmill battle as fascinating as this one.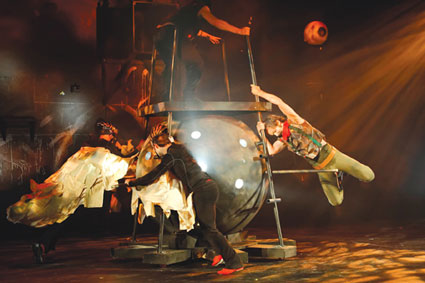 Don Quixote at Synetic Theater
As carefully structured as Tsikurishvili keeps it, a charismatic Quixote is an essential. Giving his errant knight a striking physical presence and a memorable blend of virtue, human resilience, and comic appeal, Dan Istrate offers a symbolically compelling man de La Mancha. Without overdoing Tsikurishvili's obvious intent, he most credibly suggests a madness that, seen in the right light, challenges the world's idea of sanity. More about movement than dance here, Istrate is a lithe and attractively precise mover and his pas de deux with the Dulcinea (danced with delicacy by Francesca Jandasek) are understated and effective.
As earnest as all this may sound, comedy is never more than a blink away. And although the production in general may be a tad too vaudevillian for some, at his best, Istrate delivers a rare expressive humor reminiscent of Jack MacGowran's hilarious professor in the Fearless Vampire Killers.
As Sancho Panza, Quixote's loyal squire, Ryan Sellers carries much of the slapstick and one-liners, and does so with compelling warmth and athleticism, if not the nuance of Istrate. In the role of Freston, Quixote's inner demon/alter ego, Alex Mills displays nice control and flair, showing Irina Tsikurishvili's choreography at its dark and wonderful best. As the peasant Aldonza and the courtesan Altisidora, Natalie Berk offers spark and energy, if not quite enough dimension to get beyond costumes that are more cheeky than they are witty. In several key roles, Ryan Tumulty works hard to capture a kind of hipster's carnival humor, though he never quite nails it. Finally, as with virtually all Synetic works, this is an ensemble piece and the dancers who create not just the crowds and minor characters but sometimes the very sets themselves, do a stellar job. Many of these complicated, yet visually cohesive segments are superbly choreographed and executed by a team working together with seemingly effortless power and fluidity.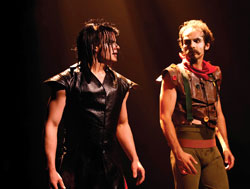 Still, having said all that, for the veteran of many a Synetic season this production might feel just the tiniest bit recycled and just a smidge too long. Where the simulated horse-riding in 2009's Dracula was powerfully original and dramatic, seen here again, it loses oomph. Where the edginess of the demons in Dante (also 2009) was spectacularly dark, here Freston feels slightly derivative. And despite his strong signature, this time around, Tsikurishvili occasionally allows the production to linger over scenes that do not pay off. In particular, when the disreputable residents of an inn take advantage of Quixote (who believes the inn is a castle peopled with nobles), the hijinks feel belabored and the effect is diluted. And although the penultimate scene between Quixote and the windmill is phenomenal on every level, the finale, by contrast quiet and thoughtful, fails to create its own lasting mood and sense of completion.
DON QUIXOTE



and a half
To July 3
Synetic Theater
2788 S. Arlington Mill Drive
Arlington
$40 to $50
703-824-8061
synetictheater.org
Similarly, as spectacular as Irina Tsikurishvili's choreography is in some moments, such as the dream sequences, the carousing crowd scenes at the Duke's castle lack her usual originality and painterly control.
Of course, not every production can break the artistic sound barrier, and even with these caveats there are moments here that will astound, if not transport. And, thus, for newcomers and addicts alike, this remains, without any doubt, theater that engages the soul with a magical daring you won't find elsewhere.