Michael Lutz, executive director of Capital Pride, announced today the Kelly Rowland has pulled out of her scheduled headlining performance on the Capital Pride Festival Mainstage performance, Sunday, June 12. Jennifer Holliday of Dreamgirls fame and already appearing with the Gay Men's Chorus of Washington June 4 and 5, has agreed to perform at Capital Pride in Rowland's stead.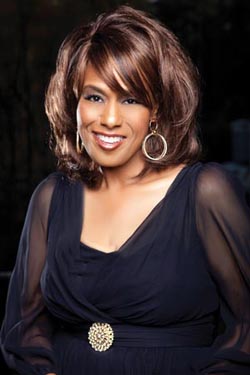 Holliday
(Photo by Corey Reese)
"We found out Monday that Kelly Rowland is actually unable to join us," Lutz says of the former Destiny's Child singer whose solo career has spawned hits such as "Commander," "Dilemma" and "Motivation."
Capital Pride released a statement from Rowland's management reading, "Kelly is disappointed that the filming schedule for The X Factor in Europe had forced her to cancel her headlining performance at Capital Pride. Kelly looked forward to the performance and wishes everyone a happy Pride."
The X Factor is a British talent show, for which Rowland will serve as a judge.
"She's still a supporter of our community," Lutz says of Rowland. "She gave us plenty of notice. It's not as if she was just a no-show. She took the high road."
In today's release announcing the change, Lutz elaborated on Holliday joining the Pride Festival lineup, "We couldn't be happier to have Jennifer Holliday join us on the main stage. She's a musical legend and long-time LGBT supporter. We're honored and lucky to have her celebrate Pride with us."
Speaking with Metro Weekly, Lutz took the change in stride, offering praise to Capital Pride volunteers and staff for managing this situation and others like it.
"There are all sorts of hiccups. Our goal is just to address those hiccups quickly."