"Musical theater — it just wasn't my cup of tea," says Duncan Sheik. The Tony Award-winning composer of Spring Awakening performed in Oliver! and Annie while in elementary school. "I kind of dipped into the musicals that kids do," he says. "But after that, I kind of wasn't interested in musical theater. I was more interested in rock bands, frankly."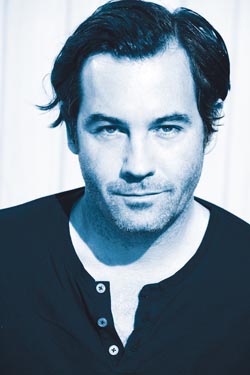 Sheik
It wasn't until he started collaborating with lyricist Steven Sater that Sheik, by then an established pop-rock singer-songwriter, rediscovered the musical. He then set about remaking it through his own influences, which he cites as rock, folk, electronica, contemporary classical and world music. Since 2006's Spring Awakening, the Sheik-Sater duo have been working on an adaptation of Hans Christian Andersen's The Nightingale as well as Lewis Carroll's Alice In Wonderland. Sheik is also working independently on a musical adaptation of Bret Easton Ellis's American Psycho. All three shows should see full productions in the next year or two.
"All this musical theater stuff takes forever," he laughs. "You never know when it's going to get done."
The 41-year-old Sheik started playing guitar when he was only 6, and took up the synthesizer and drum machine by the time he was a teenager. Sheik grew up mostly in South Carolina, and says his surname is likely "a German name that got Ellis Island-ed," with altered spelling.
Sheik will play from his new studio album, Covers 80s, featuring acoustic reinterpretations of '80s synth-pop hits by Depeche Mode, New Order and The Cure when he stops by Alexandria's Birchmere next Saturday, June 11. He'll also perform from his own hit repertoire (1997's "Barely Breathing," for example, and 2003's "On A High" and "Half-Life"). And he'll throw in a few musical theater numbers too.
Expect "Totally Fucked," or at least "The Bitch of Living."
"One of these days, maybe I'll try and make something [that is] overtly comedic," he says. "My work tends to be more on the burdened side."
Duncan Sheik performs Saturday, June 11, at 7:30 p.m, at The Birchmere, 3701 Mount Vernon Ave., Alexandria. Tickets are $29.50. Call 703-549-7500 or visit birchmere.com.