"A lot of female emcees and rappers [are] extra-hard and extra-serious and violent," says Be Steadwell, who goes by the nickname B. Steady in the jazz/"hip-pop" act the Lost Bois. Instead, "we kind of embrace this fun, poppy, silly side."
B. Steady formed the Lost Bois with A.O. in late 2009, seeing a need for playful queer music. "There's so much bad music — there was really no music that we connected to in terms of content, or form."
The Lost Bois may only have been a going entity for a year and a half, but its two members have known each other since attending D.C.'s private Field School.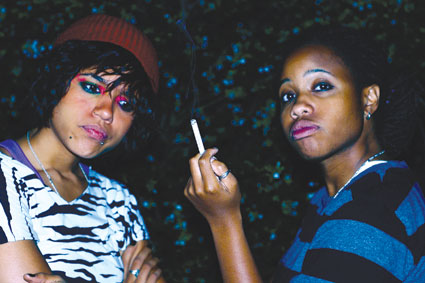 Lost Bois:
"When we met, we were 12," says Steady. "She was just weird, and I was weird." It would take a few more years before they realized they were both queer.
"We sort-of started dating women at the same time [in high school]," says Steady. "So that was really like what brought us closer, being able to bond over that."
The two became as close as sisters, leaning on each other to cope with the then-homophobic school leadership, which denied Steady repeatedly from launching a gay student alliance. They also performed duets as part of the school's jazz band.
After high school graduation, Steady and A.O. went on to different colleges, but they followed similar paths — both led a cappella groups at their schools, for example — and kept in touch.
Once they decided to form a group, they settled on a name inspired by Peter Pan. "The lost boys are not really related, but they're brothers," says Steady. "[And] they're not really part of society because they're rebels, they're different. I guess we really identified with that concept, as women and queers…embracing this community outside of family." The "i" in the name is a way to signify that the women are not, in fact, boys, with a y chromosome.
The Lost Bois strives to make music with a lighthearted sensibility even as it touches on heavier realities. "It's just kind-of real-life, simple music from a black feminist perspective," says Steady. "[A way] for queer folks to enjoy themselves and talk about life in an earnest and exciting and happy atmosphere."
The Lost Bois perform Sunday, June 12, on the Capital Pride Festival Mainstage. Click here, for the complete Mainstage lineup.