While every community has heroes, D.C.'s LGBT community has an abundance. And Capital Pride will honor just a few during this year's festivities with its annual Capital Pride Heroes awards.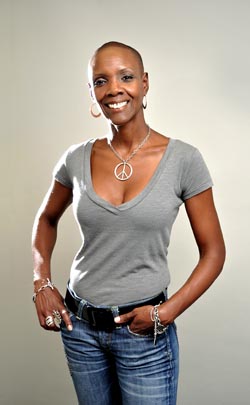 June Crenshaw
(Photo by Todd Franson)
This year the honorees will be lauded for their pro-LGBT efforts at a gala on Tuesday, June 7, at the House of Sweden in Georgetown.
In addition to this year's Capital Pride Heroes award, Capital Pride is presenting the new Paving the Way Award, the first of which is being awarded to Sweden.
"The country of Sweden has been one of the frontrunners in supporting equal rights for all human beings," says Michael Lutz, president of Capital Pride. "We wanted to recognize that, which is why we created that award. They're continuing to work across the globe – even in the U.S. by hosting us at their embassy in the House of Sweden."
As for individuals, the Capital Pride Heroes Committee has named six heroes for 2011.
"The award is designed around individuals who have made a significant and or lasting impact to the community," Lutz says. "They've done some work … to continually better and improve the life of LGBT individuals in the metro D.C. area."
The heroes are: Bil Browning, founder of the Bilerico Project; June Crenshaw, an African-American lesbian activist who serves as co-chair of Rainbow Response Coalition and as facilitator of a women's coming-out group at Whitman-Walker Health; Tyrone Hanley, an UDC David A. Clarke School of Law student who serves as Outlaw co-president; Dr. Theo Hodge, a gay African-American doctor who specializes in the treatment of HIV/AIDS; LGBT ally Rev. Jill McCrory, interim pastor at Open Door Metropolitan Community Church in Boyds, Md.; and Rebecca Roose, co-founder of the BurGREENdy imitative in 2008 and the BurGREENdy committee in 2010.
According to Lutz, Capital Pride started working on picking this year's winners in January.
"We get tons of nominations," says Lutz, adding that the process began in January. "There's a volunteer committee that goes through the people who have been nominated. Based upon their impact of the community they select a handful of them. It's several months full of work."
Look for this year's Capital Pride Heroes walking in the Parade on Saturday, June 11, wearing Capital Pride Heroes medallions.
In addition to the Capital Pride Heroes, Capital Trans Pride will recognize a selection of people with the Engendered Spirit Award during Capital Trans Pride on June 4, and again at the June 7 gala.
This year's Engendered Spirit Award honorees are: Terra Moore, Gibby Thomas, Ruby Jade Corado, Drs. Dennis and Christine Wiley, Joe Izzo and Mara Keisling, founding executive director of the National Center for Transgender Equality.
"I'm really proud that I pitched in," Keisling says reflecting on her work within the LGBT community. "I didn't just sit back and complain. That's who I'm proudest of and most influenced by: people like that. For people to think that I'm one of those people is really an honor."
The 2011 Capital Pride Heroes and the 2011 Engendered Spirit Awardees gala and silent auction is Tuesday, June 7, 6:30 to 9:30 p.m., at the House of Sweden, 2900 K St. NW. Tickets are $50 in advance at capitalpride.org, or $75 at the door.