It might be a little puzzling that Bettina Schelker wrote a song called "The Honeymoon is Over" upon marrying the love of her life. But there's an explanation. A very good one. You see, says the lesbian singer-songwriter, the catchy tune is not about her relationship.
"The funny thing is when I found the love of my life, I became a political songwriter," says Schelker. "Before, it was about relationships and I wrote a lot of songs about love and having a broken heart. When I found the love of my life, I was like, 'What should I write about?' I was so happy."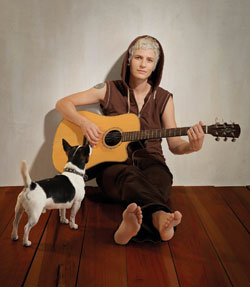 Bettina Schelker
The song, which was also remixed into a dance track by the band Chumbawamba, is about the homophobia the couple faced when trying to plan their honeymoon.
"I realized nobody wanted to give us the honeymoon special. We wanted to go to the Caribbean or Africa, and then people would say, 'Oh I wouldn't go there because homosexuality is still illegal in those countries.' I was like, 'Oh, the honeymoon is over before it even started."'
Schelker, who hails from Switzerland, is planning on performing "The Honeymoon is Over," and material from her latest album, Another Strum, when she performs from the Capital Pride Festival mainstage on Sunday, June 12.
"It's definitely going to be the biggest event that I've ever played in the states," she says. "I've played the big Prides here in Europe, but never in the states."
Schelker discovered her musical talent when she was in the third grade.
"I had a primary school teacher who did a lot with music," she says. "He actually performed with ABBA, so [he had us] perform a lot. From the first day that I was onstage I realized how much I love it. Since then, I played music and I wrote my own songs.
"I started in school. Then I played in the streets, and then I started making a living out of it," she continues. "I actually started with the piano, [but] I never wanted to read music, the notes. My teacher wasn't really happy about that. I always wanted to just write songs. I never wanted to learn how to read music, so I couldn't go to piano lessons anymore."
Today, Schelker is the one looking to inspire children. She and her partner have launched a school in Switzerland. Called Kids Camp International, it promotes music and sports for children.
"My partner and I just realized that music and sports are not [promoted] enough in public schools. So we decided to [launch] our own school because I'm also a primary school teacher."
Schelker is also an athlete and holds a 2004 Swiss Boxing Champion title. She discovered her pugilist talents when asked to appear at an event promoting the 10-year anniversary of boxing as a sport for women in Switzerland.
"All I knew about boxing was the Rocky movies," she says.
"But I went there and I liked it. From the first minute, I was like, 'Yeah I like it,' and I realized I had talent."
With luck, she'll even deliver a musical knockout at Capital Pride.
Bettina Schelker performs Sunday, June 12, on the Capital Pride Festival Mainstage. For the complete Mainstage lineup, click here.