Caleb Laieski is determined.
On Wednesday night, June 1, Laieski sat at a Dupont Circle coffee shop reviewing the day's meetings. It would have been an impressive schedule for a senior lobbyist. It included a cabinet member – Health and Human Services Secretary Kathleen Sebelius – members of Congress and several staffers.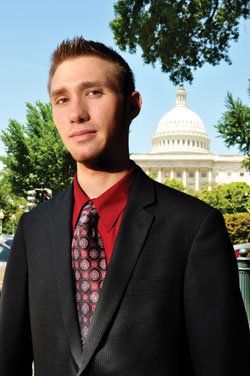 Caleb Laieski
Laieski, however, is no ordinary lobbyist. He has come to D.C. for a month from Arizona to lobby Congress and the administration by telling his story.
"I'm 16," he says. "I dropped out of school in January after somebody drove onto the sidewalk and said, 'Eff you, you effin' faggot.' Somebody threatened to stab me. And, I lost a close friend of mine to suicide. And then I go into the bill."
The bill is the Student Non-Discrimination Act, legislation introduced by Rep. Jared Polis (D-Colo.) and Sen. Al Franken (D-Minn.) that is modeled after Title IX to prohibit sexual orientation and gender identity discrimination in education.
After dropping out when school officials didn't take action to stop the bullying, Laieski earned his GED and moved on to activism, first at his school and then around the state. His work got him noticed by Equality Arizona, and he attended the White House Bullying Conference in March on the organization's behalf.
Walking the halls of the Hart Senate Office Building on June 2, he says, "I know how it feels to be bullied, to lose a friend to suicide and to not have the support network that a lot of people do have – and that, obviously, a lot of people don't have.
"Right after the White House conference, it kind of inspired me to think more about how we can tackle the issues of bullying and suicide, and homelessness as well – the three biggest issues that I'm passionate about.
"I just kind of got the spark one night that I needed to go fight for this bill and here I am. It was all put together in maybe three weeks, tops."
Not working with any national organizations to set up his trip, Laieski has a calendar and trail of emails with congressional offices that – as of June 6 – resulted in meetings with nearly 150 offices. The June 2 schedule included a meeting with Minority Leader Nancy Pelosi (D-Calif.).
Asked how he organized a month-long trip to D.C. that led to a meeting with the former speaker of the House of Representatives, Laieski is blunt.
"Fundraised. Stayed up very late, and got here," he says, detailing online fundraising, and Phoenix restaurants and others who donated to help fund the trip.
Now that he's here, he's meeting with supportive congressional members and offices, thanking them for their sponsorship of SNDA or urging them to sign onto the bill. He's talking with the administration, pushing it past general support on the issue and asking for outright endorsement of legislation. He's meeting with the offices of less supportive members – like Speaker John Boehner (R-Ohio), where he met with legislative and policy aides.
There have been tangible results. More than five members have signed onto the bill after Laieski met with their offices, including one senator – Kay Hagan (D-N.C.) – and several House members.
"A lot of people just don't know about the bill," he says.
Rep. Stephen Lynch's (D-Mass.) legislative director emailed Laieski on June 6, writing, "My boss is on the bill now. Thanks again for coming in – it was great meeting you!"
Even for the meetings that don't result in sponsorship, Laieski is upbeat.
"I think they're all very positive in different ways. I mean, every single meeting has been a victory – I'm either educating somebody or they're willing to help out on the issue."
Talking about a meeting with Rep. Rosa DeLauro (D-Conn.), Laieski says, "She told me, if I ever have a bad day that there's always somebody on the other end of the phone…. She almost made me cry."
It was Laieski, however, who got to the Health and Human Services secretary. Sharing his story at the Department of Education's LGBT youth summit on June 6, Sebelius responded, "As a mother, it breaks my heart. And it stiffens my spine."
Speaking about her department's involvement in LGBT youth issues, Sebelius told the summit attendees, "Caleb told me he's here to speak for LGBT youth who can't speak for themselves," and asked him to stand and be recognized.
"Caleb, and young people like him," she continued, "should not have to stand alone."
"It was really incredible," he says of Sebelius singling him out. "She is remarkable. She makes me smile." And she mentioned the bill.
Asked about his experience of the past month – he heads back to Arizona on June 10 – and what he brings to advocacy on behalf of the SNDA, he says, "Every day's a learning process for all of us, and story by story, we learn more. Everybody's experience is different, and I know that there's not another Caleb out there.
"I have the courage to bring it to who I need to, and I don't mess around."