Wicked is as Wicked does. Which is to say, Wicked does whatever it wants to, thank you very much. And if you don't like it, there are plenty of folks who do — more than enough to have made this Wizard of Oz-inspired musical an unstoppable box-office behemoth on Broadway and on the road since opening night way back in 2003.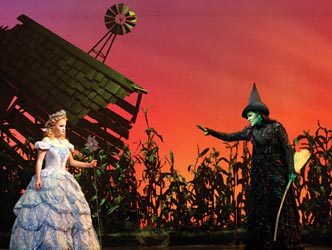 Wicked
And if I don't like it (I do, well enough), or if any other critic snubs his or her nose at it, well, as Glinda the Good Witch once famously told a certain emerald-skinned foe, "Begone, before someone drops a house on you, too!"
It's really no surprise that it took a gay writer, Gregory Maguire, to delve into the psychology of the witches who provide the moral bookends in a story that – after its 1939 MGM musical adaptation – became an enduring icon for generations of gay men who longed to catch the next twister out of Kansas and party it up in the Emerald City with the tragic diva in the gingham dress and ruby slippers. (Of course, I'm not even going to insult you by saying her name. I'm going to insult you by saying that if you don't know of whom I speak, proceed immediately to the nearest gay bar and turn in your Friend of Dorothy card.)
But, back to Maguire's 1995 novel, Wicked, which lays the groundwork upon which this stage empire is built. The question he wanted to explore is: Why take all this good-bad business at face value, anyway? Avoid the chick on the broomstick, fawn over the pretty girl floating around in a bubble – doesn't that get old after a while?
Of course it does. So you take a veteran TV writer, Winnie Holzman, whose expertise in angst basically turns the novel into My So-Called Life in Oz. Back that up with a catchy-as-all-get-out score by pop-musical master Stephen Schwartz – whose roots in '70s hits such as Godspell and Pippin are, for better or sometimes not, showing – and you've got a creation that audiences can't get enough of.
Dorothy is barely mentioned in the world of Wicked, which concerns itself with the formative years of Glinda (Amanda Jane Cooper), the most popular girl at Shiz University, and Elphaba (Dee Roscioli), its most misunderstood. With her green skin (an issue that caused no small amount of trauma in her family) and her brooding disposition, Elphaba is the kind of girl who doesn't get dates and doesn't have friends, but she stands up for the mistreated: creatures such as Doctor Dillamond (Paul Slade Smith), a talking goat who fears for his future in an Ozian political climate that doesn't favor animal rights, or speech. She also exhibits great displays of raw magical prowess that make her a favorite of headmistress Madame Morrible (Randy Danson), who promises Elphaba a shot at meeting the Wizard (Mark Jacoby).
By the time Elphaba is ready for her big introduction, she takes along best friend and roommate Glinda, with whom she's managed to connect, despite markedly different places in the university's social order. But the blinding neon lights of the Emerald City soon illuminate a darker side of the Wizard's intentions, and Elphaba and Glinda are set upon the paths that will turn them into "wicked" and "good" witches forevermore.
To explain too many of the plot twists would be to divulge too many surprises, and if you're willing to pay up to $250 a seat, should one be available to you (and good luck with that), surprises are something you'll want to treasure. But Holzman's take on Maguire's source material (and, of course, L. Frank Baum's; let's not dis Mr. Oz himself, just because his books are in the public domain) can be quite clever and quite affirming to those who've ever felt like an outcast.
WICKED



and one half
To August 21
Kennedy Center Opera House
$37-$250
202-467-4600
kennedy-center.org
Roscioli, who can boast of having played Elphaba in more performances than any other actress, finds impressive moments of nuance in a show that favors borderline-bombast. And it can be rather touching to watch the romance that develops with Fiyero (Colin Hanlon), the dashing prince who seems destined to fall for Glinda but can't shake his attraction to her green-complected roomie.
As Glinda, it takes Cooper a little while to shake the impression that she's simply doing her best impression of Kristin Chenoweth, who originated the role on Broadway. But by the time she gets to the scene with the comic number "Popular," coaching Elphaba on overcoming her greenness, Cooper begins to put her own charming stamp on the role, commanding it with nicely honed sense of frenetic daffiness.
Cooper and Roscioli mesh quite well in numbers such as "For Good" and "Defying Gravity," the show's best-known song (and one of its loudest). There are quieter, and perhaps more pleasurable, moments in the likes of "I'm Not That Girl," Elphaba's ballad of romantic self-doubt.
But, again, it really matters little if this brand of postmodern fairy tale appeals to you or not. Wicked has found a Yellow Brick Road that's paved with gold, and it's going to be on this journey – on its own terms – for a long time to come.