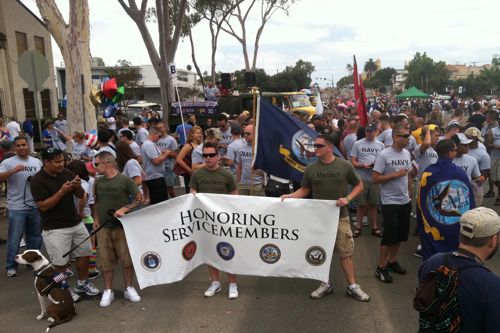 [Photo: The contingent of active-duty servicemembers and veterans line up to march in the San Diego Pride Parade on Saturday, July 16. (Photo by Tony Lindsey.)]
The third contingent in today's San Diego Pride Parade would have been unheard of in the recent past. Yet, this year, the presence of a parade contingent of active-duty servicemembers and veterans was celebrated — and received some of the biggest cheers from the bystanders of the mile-long march through the Hillcrest neighborhood in San Diego.
The contingent, which organizers estimated ahead of time would be made up overwhelmingly of active-duty servicemembers, is thought to be the first of its kind in the country. Although the "Don't Ask, Don't Tell" law remains on the books, an injunction from a federal appeals court prevents the military from discharging servicemembers under DADT currently and government officials say the end of the law under the Don't Ask, Don't Tell Repeal Act is close.
Sean Sala, the 26-year-old veteran who organized the contingent — thought to be the first of its kind in the country — talked with Metro Weekly and LGBT POV in a call arranged by gay journalist Rex Wockner briefly before the parade stepped off. Sala said he was excited by the contingent's presence, which numbered about 100 people for much of the set-up time but swelled to about 350 people in the minutes before the parade began.
Sala said he served in the Navy as active duty for six years in San Diego and was stationed on the USS Dubuque. Speaking with the San Diego Union-Tribune earlier this week, Sala said that about the number who ended up marching had signed up ahead of time, with 70 percent of those being active duty.
Wearing mainly gray Navy T-shirts and green Marines shirts, the parade took off with about 150 people representing each of those branches. Less heavily represented in the San Diego area are the other service branches, who nonetheless each had some representation in the parade — with just less than 10 people affiliating with the Air Force and a couple each with the Army and Coast Guard.
The parade came less than a day after the U.S. Court of Appeals for the Ninth Circuit kept in place the portion of a July 6 order that has stopped the military from "investigating, penalizing, or discharging" any servicemembers under the "Don't Ask, Don't Tell" policy. Pentagon officials and President Barack Obama have said that they expect certification under the Don't Ask, Don't Tell Repeal Act — after which the 1993 law would be repealed following a 60-day congressional review period — to happen in the coming weeks.
Pride organizers claim that San Diego Pride is the fifth largest parade and festival in the country, with an estimated attendance of 150,000 people.
With Rex Wockner reporting from San Diego.
[Photo: The front of the contingent of active-duty servicemembers and veterans marching in the San Diego Pride Parade on Saturday, July 16. (Photo by Rex Wockner.)]