Captain America: The First Avenger is a tease. The latest in a string of superhero movies churned out by Marvel Studios, it's little more than a two-hour trailer for next summer's The Avengers. And that's a shame, since this one strains with potential of its own.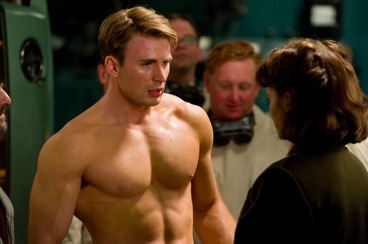 Set in the midst of World War II, Captain America is about a Brooklyn-raised, 98-pound weakling named Steve Rogers(Chris Evans, with his head digitally placedonto an appropriately meek body), who wants to enlist so desperately that he applies to join the Army five times. Rogers remains a scrawny civilian for the better part of the first act, until he's recruited for a super-soldier program by Dr. Abraham Erskine (Stanley Tucci), pumped full of a super-serum, and doused with "Vita-Ray" treatment that add a few feet and a whole lot of muscle to his frame.
Even with all that beefcake, don't expect Cap to bash in any Nazi skulls just yet. After Nazi officer-cum-megalomaniac villain Johann Schmidt (Hugo Weaving) dispatches a spy to kill Erskine, Colonel Chester Philips (Tommy Lee Jones) refuses to let Rogers fight overseas. Instead, he tours the country with patriotically garbed chorus girls, drumming up public support for war bonds as a national star. It's not until Rogers performs for weary, jeering Allied troops in Italy — and learns that Schmidt captured his hometown buddy Bucky (Sebastian Stan), along with hundreds of other soldiers — that he has a chance to put his enhanced abilities to use.
Co-creators Joe Simon and Jack Kirby's symbol of America's ass-kicking prowess has always been a moral compass in the world of Marvel comics, endowed with an anachronistic sense of good and evil in a world of relative ethics. Director Joe Johnston hems closely to that right-beats-might attitude, which fits well on Evans' all-American mug and physique. (Evans' Rogers is so wholesome he can't even get drunk.) But by aping style instead of spirit, Johnston makes an odd mistake — Captain America doesn't adapt as much as it just plain mimics.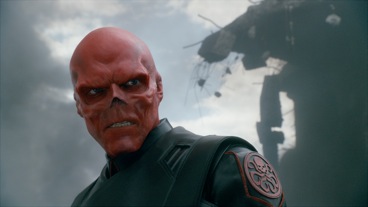 In other words, outlandish fare that succeeds on pulp ends up landing poorly on-screen. At its worst, Captain America is a comic-book movie that's just too comic. The campy, art deco-futurist look that Johnston dusted off from The Rocketeer seems out of sorts thanks to the movie's cheap 3D effects, which pander enough to distract. During heated moments, the good guys fall over themselves to crack wise. Every baddie, especially Schmidt, always has his scowl at the ready. It might be fun, but it just doesn't fit.
CAPTAIN AMERICA



Starring Chris Evans, Hugo Weaving
Rated PG-13
125 Minutes
Area Theaters
It's the stuff that Johnston misses — not the tired storytelling that masquerades as old-fashioned adventure — that could have really brought Captain America to life. Both of Rogers' parents were killed in World War I, yet no space is given to suggest how that relates to his platonically good principles or desire to fight. Screenwriters Christopher Markus and Stephen McFeely manage to recreate a consistently entertaining cast of characters, but don't bother to imbue Rogers, or any others for that matter, with significant purpose or meaning. The romantic spark between Rogers and luscious British spy Peggy Carter (Hayley Atwell) could have been a refreshing addition to the genre, with great credit to their chemistry, but ends up abandoned for the sake of leaving things tidy for The Avengers.
That's the problem with Captain America. It beats the average comic-book movie to a pulp, but it leaves so much more unexplored. It breaks enough ground to hold interest, just without legitimately capturing the imagination. It's a story for the sake of another, at the expense of itself.