Gino Tassara has learned the hard way: A gay play can be a tough sell. "I was thinking it would be very easy to produce a show like that here in the U.S. and D.C., because I was thinking it was very liberal," says Tassara, who originally hails from Peru.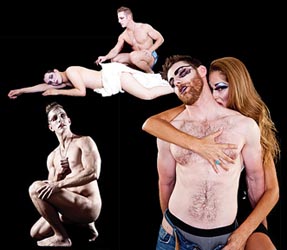 Gay, Accept Me If You Love Me
But Tassara came up short enlisting support from the Peruvian Embassy for his first play, Gay, Accept Me If You Love Me, which he adapted for America from a Spanish-language version that stirred-up controversy in his native land 11 years ago. Adapted with Tre Watts and Chris Galindo, the play focuses on a closeted conservative senator and his family, as well as his gay male lover, played by local up-and-coming actor (and former Metro Weekly Nightlife Coverboy) Ben Horen.
Tassara was also unable to secure grant support for the play, and lost its original theater space — all because of its title. "They told me the title should be more subtle," he says, meaning drop the word "gay." "Why don't people like to see stuff in the way that it is?"
In the end, Tassara lined up enough business support after Nellie's Sports Bar and a couple Peruvian restaurants signed on. And the DC Jewish Community Center provided its Goldman Theater. He also recruited partnerships with the Trevor Project, PFLAG and Whitman-Walker Health, organizations that will benefit from select performances.
Tassara says the show is told in the over-the-top style of Latin soap operas, or telenovelas, with wild makeup and "very Lady Gaga"-style clothing, not to mention nudity, sex and "intense" violence.
"Everything is very exaggerated," he says. –Doug Rule
Gay, Accept Me If You Love Me runs until this Sunday, July 31, at the Aaron & Cecile Goldman Theater, Washington, D.C.'s Jewish Community Center, 1529 16th St. NW. Tickets are $45, or $25 with student ID. Visit spotlightcomunicaciones.com.