Every business depends on credit. Credit breathes life into enterprise, oils the machine of commerce, and provides capital to expand. Banks exist to loan money – but they also expect to get their investment back with a reasonable return.
The credit markets froze in the Great Recession, as large banks and investors feared not getting their money back. Thanks to massive federal intervention, faith in the market is restored and credit is flowing again. Enterprises can take business loans, but they should be prepared for due diligence to prove that they are credit-worthy risks.
EagleBank continued to lend, even during the economic downturn. "We're looking for borrowers with firm footing with a background in the business," says Trevor Brown, area manager. "What's changed is that national organizations aren't handing out free cash to anyone who walks in the door anymore."
Ken White, vice president at Signal Financial Federal Credit Union, one of the local credit unions involved in small business banking, sees greater activity. "People are investing in themselves and their ideas," he says, adding, "Lenders are being more careful at scrutinizing things greater than they did three years ago."
Before talking to a financial institution, prepare a business plan that outlines your goals and experience in that industry. "A veterinarian opening a coffee shop may raise a few eyebrows," quips Brown. You can improve your financial literacy by getting a credit report, reducing debt and becoming more liquid. "If you flunk the credit part, you can go home," adds White. Bankers have "five Cs" to test for credit worthiness: character, capacity, capital, collateral and conditions.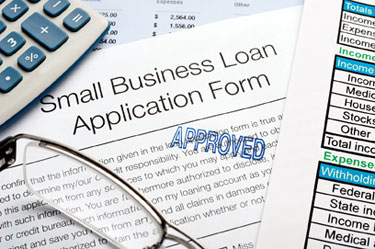 (Photo by Stockphoto / ourtneyKeating)
For those who haven't been in business long or lack historical cash flow, a lender may require a guarantee from the Small Business Administration, which backs up less-than-perfect loans or a collateral shortfall. SBA loans are time-consuming and involve considerable paperwork.
"No one wants to finance 100 percent of your dream," says White. "You need to put some skin in the game," meaning that you need invest cash into the business, whether from personal savings or equity in your home. This is something you can't easily walk away from, which is exactly why banks demand it.
EagleBank has been in community banking for 13 years, typically providing loans for $150,000 to $2 million for small and medium-sized businesses. "Bigger banks won't even touch a business that hasn't been in service for more than a year," says Daniell Bohnett, vice president.
In May, the bank launched a blog, "Checking in with EagleBank Chairman Ron Paul," which provides a weekly update on how lending affects small businesses.
An advantage of working with a community bank is relationship banking. "All of this is fueled by local decision-making, by lenders who live in the area and understand the local business environment," says Joe Clarke, EagleBank senior vice president.
The bank provided financing for Sweetgreen, a local chain offering healthy, hip places to eat. Sweetgreen opened four new stores in the Washington area in the past year. "As a restaurant, it's not the easiest thing," notes co-founder Jonathan Neman. "Eagle understood our needs for financing – they came onboard to give us the cash we needed to build new stores." The company is expanding further "to continue our promise to live the 'sweet life."'