Community members expressed frustration earlier today during the third hate crime oversight hearing within the past four years. Councilmember Phil Mendelson (D-At large), chair of the Committee on the Judiciary, called for the July 6 hearing, which fielded plenty of criticism regarding a perceived lack of progress since the last hearing, which took place in November 2009.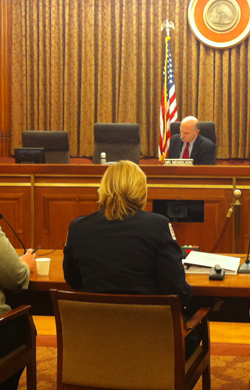 Chief Lanier and Mendelson
(Photo by Yusef Najafi)
Those criticizing the committee included Kristopher Baumann, chair of the Metropolitan Police Department's union, the Fraternal Order of Police. He told the committee that criticism of police officers should be leveled at MPD management and internal affairs, who he said sometimes operate with homophobic attitudes.
Talking to Metro Weekly after a heated exchange with Mendelson regarding statements made by Mendelson to the Washington Post that problems exist with police on the streets, Baumann said Mendelson's comments were "inexcusable."
"Back in [2008] when we first had this hearing, we brought forth a series of incidents that occurred to LGBT officers inside the department, where the department did not investigate those incidence, did not get back to the officers," Baumann said. "It started in 2001, all the way to 2009. So it's the department, it's the [Office of the Inspector General], it's Mr. Mendelson who have done nothing."
"Mendelson has all the power in the world," he added. "He controls the money that the Police Department receives, their budget, and if he wants to do something serious and he wants to see something changed, he can affect that change.
"I think every single person that's come up and testified that was there in 2009 has said exactly the same thing. No progress. And we're from completely different backgrounds and areas and venues and advocacy groups, and we've all said the same thing: Nothing has changed."
Mendelson argued that Baumann was being "divisive" with his comments and that he had not made any predeterminations about MPD before the hearing.
"What we're doing here is trying to get a picture of what is happening," Mendelson said. "And also – since we've done this twice before – to measure what has changed."
According to Mendelson's office, the simple purpose of the hearing was to hear testimony from government and public witnesses about hate crimes in the District and determine whether MPD is responding effectively to reduce these incidents.
As with previous hearings, community members testified, painting a picture of the problems that LGBT people face in the district. Hate crimes against members of the LGBT community have doubled compared to last year, A.J. Singletary, chair of D.C.'s Gays and Lesbians Opposing Violence (GLOV), told the committee. GLOV is a program of The Center, D.C.'s LGBT community center.
Singletary said MPD hate-crime training should be mandatory – rather than voluntary, as it is currently – and criticized MPD Chief Cathy Lanier for her handling of the Gay and Lesbian Liaison Unit (GLLU), one of four "Special Liaison Units" of the MPD.
"Chief Lanier continues to poorly manage the Gay and Lesbian Liaison Unit, effectively castrating a previously award-winning organization that served the community well," he said. "A number of changes have happened to the GLLU over the past years: Communication lines have been severed. GLLU leadership has been removed, replaced, or reassigned. And the GLLU itself has been reorganized numerous times.
"All without communication, input, or transparency."
Singletary also expressed frustration that there is no way to track repeat offenders such as Robert Hannah, found guilty of misdemeanor assault in at attack that led to the death of a gay Maryland resident in 2008, who was arrested again last month on a new assault charge.
"The D.C. City Council should be very concerned that we can't even track cases," he said. "We have repeat offenders because crimes aren't being tracked in D.C."
When asked by Mendelson about an increase of reporting crimes, Singletary said there appears to be an increase in reporting. Jason Terry, of the DC Trans Coalition, said there is no way of actually knowing, adding that data from 2009 and 2010 is inadequate.
Terry also told the committee that attacks against transgender people in the District are particularly brutal.
"Worse still," he said, "arrests in such cases are relatively rare, prosecutions rarer still, and convictions almost nonexistent."
Terry said the DCTC has been training 120 MPD officers with regard to crimes against transgender people, but that he has confidence in only about half of those officers in that regard.
"The rest I have questions for," he said. "Generally, trans people are seen as criminals rather than victims of crime, and we in our training are trying to change that perception."
Terry said to get at the root of injustice transgender people face in the District, the City Council must address several factors including "dramatically unsafe schools," ending employment discrimination, poverty and a lack of access to health care and housing.
Councilmember Jim Graham (D-Ward 1) made an appearance and agreed with those calling for the GLLU to be strengthened.
"Now we have a GLLU and I don't even know if it's worthy of the name," Graham said. "What am I hearing today is that the gay and lesbian community and others are coming together and saying this isn't right.
"The message today to the chief … is you've got to find a better way of engaging our community. And I have to ask again and again: Chief, why did you dismantle this?"
Lanier, who also attended the hearing, maintained that dismantling the Dupont Circle-based core of GLLU, as it initially existed, and instead training a larger number of officers in GLLU methods is more effective.
Others testifying at the hearing included local gay activist Richard Rosendall, of the Gay and Lesbian Activists Alliance, and transgender activist Jeri Hughes.
Rosendall argued that the trust that once existed with the centralized GLLU was priceless.
"When you have the trust of a community behind you, you can catch perpetrators better," he said.
During her testimony Hughes began by reading the names of several women, including Ukea Davis, Nana Boo Mack and Imani Williams.
"These women all share many attributes," she said. "They lived in the District of Columbia. … They were all transgender. … They were all victims of hate and they were all murdered."
"The killers remain free and walk among us," she added. "This is not justice. My absent transgender sisters deserves some small measure of justice."