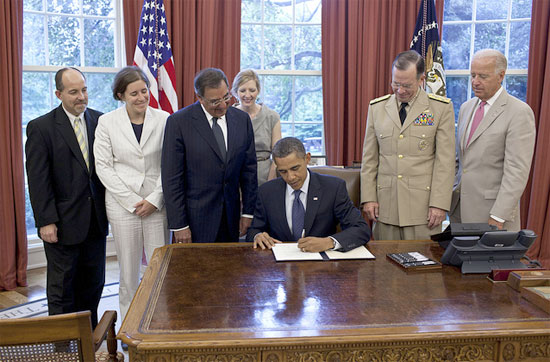 President Obama signs certification for DADT repeal
(Official White House Photo by Pete Souza)
An earlier version of this story was published at 5:53 p.m. July 22.
The repeal of "Don't Ask, Don't Tell" passed its last significant hurdle on Friday, July 22, as President Barack Obama joined Secretary of Defense Leon Panetta and Chairman of the Joint Chiefs of Staff Adm. Mike Mullen in certifying that the U.S. military is ready for the policy to end.
According to the DADT repeal legislation signed into law in December 2010, final repeal will take effect 60 days after certification, a period set aside for congressional review.
"'Don't Ask, Don't Tell,' will end, once and for all, in 60 days — on September 20, 2011," said Obama in a statement released by the White House. "Our military will no longer be deprived of the talents and skills of patriotic Americans just because they happen to be gay or lesbian."
The president praised the "careful and deliberate manner" of both civilian and military leadership in bringing about the change.
"I want to thank all our men and women in uniform, including those who are gay or lesbian, for their professionalism and patriotism during this transition. Every American can be proud that our extraordinary troops and their families, like earlier generations that have adapted to other changes, will only grow stronger and remain the best fighting force in the world and a reflection of the values of justice and equality that define us as Americans."
In a news conference at the Pentagon on July 22, Maj. Gen. Steven A. Hummer said that the military had completed "the necessary policies and regulations to implement repeal," praised the work of the Repeal Implementation Team, and said, "This thoughtful and steady approach … has laid the groundwork for a smooth and orderly transition."
Undersecretary of Defense for Personnel and Readiness Clifford Stanley said that there were "no issues or barriers arising during the implementation process" and stated that after repeal takes effect the military will continue its "zero-tolerance" policy for harassment of any type, a policy that he said is neutral in regard to sexual orientation
A Pentagon spokesman said the certification decision was made in consultation with the service chiefs, service branch secretaries and combatant commanders, who "unanimously reported that the services were now ready for repeal."
Hummer said the military expects all training of active-duty servicemembers and reserves will be completed by Aug. 15.
Hummer also said that the Repeal Implementation Team has conducted a thorough review of regulations and policies, made the necessary revisions, and stated that those changes will be effective upon the date of repeal. Some of the main policies addressed relate to separations of servicemembers under DADT. Such servicemembers, when discharged fully under DADT, will be able to re-apply after repeal, said Hummer. He also said that separate bathrooms or living quarters based on sexual orientation are prohibited.
Both Hummer and Vee Penrod, the deputy assistant secretary of defense for personnel and readiness and the chairwoman of the Repeal Implementation Team, said that the implementation team will now move its focus to remaining policy changes that the team has not yet addressed.
"Perhaps the largest piece of this is benefits," said Hummer.
Although Hummer said that certain benefits in which servicemembers can select a beneficiary of their own choosing will be open to gay, lesbian and bisexual servicemembers who wish to name a same-sex partner, he noted that the Defense of Marriage Act (DOMA) and "the existing definition of 'dependent' in some laws" will prohibit extending benefits such as health care and housing allowances to the same-sex partners of servicemembers.
Former Rep. Patrick Murphy (D-Pa.), the lead sponsor of DADT repeal in the 111th Congress but who lost re-election in November 2010, issued a July 22 statement praising the certification of repeal.
"With today's certification of the repeal of Don't Ask, Don't Tell, our civilian and military leaders have confirmed that the United States is ready to end this discriminatory policy once and for all," he said. "As the author of the bill to repeal Don't Ask, Don't Tell, I am incredibly proud that our nation is so close to this historic accomplishment. When I was in the Army, we didn't care who you wrote home to, just that you were a good soldier. I look forward to the coming day when our law finally catches up."
LGBT organizations were quick to respond to the certification. Servicemembers United Executive Director Alex Nicholson called the certification "nothing short of historic," in a statement.
"This is the final nail in the coffin for the discriminatory, outdated, and harmful 'Don't Ask, Don't Tell' law. All servicemembers, the U.S. military, and the nation will be better off as a result of this long overdue change in policy."
Aubrey Sarvis, executive director of Servicemembers Legal Defense Network, said in a statement, "The final countdown to repeal begins today. Service members celebrate this historic announcement, and they are ready for this change."
A few days later, on July 25, however, Sarvis and his organization pushed further, starting a petition calling on Obama to issue an executive order banning harassment and discrimination based on sexual orientation and gender identity in the military.
In a statement announcing the petition drive, Sarvis said, "Every service member deserves equal respect in the work environment, and it's critical that gay and lesbian service members have the same avenues for recourse as their straight counterparts when it comes to discrimination and harassment."