Maybe the term "friendly visitor" conjures thoughts of E.T.: The Extra-Terrestrial. Long-ago summer blockbusters aside, the term has a far more practical – and noble – role as part of SAGE Metro DC's Friendly Visitor Program.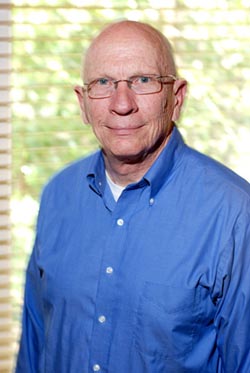 Alan Dinsmore
(Photo by Todd Franson)
This local affiliate of SAGE — Services and Advocacy for Gay, Lesbian, Bisexual & Transgender Elders — recently launched the program to help counter isolation some seniors in the local LGBT community may be facing, with a second volunteer-training set for Aug. 13.
"The primary role is to be more like a family," explains Hui Xie, SAGE's summer intern and a recent master's-level graduate of the University of Wisconsin's public health program. Xie says this program is not about volunteers cleaning for seniors or mowing their lawns. Instead, it fosters invaluable companionship. "Maybe we can help them to get on Facebook."
Alan Dinsmore, chair of the local SAGE affiliate – a program of The Center, D.C.'s LGBT community center, which grew from The Center's Elder Think Tank – says such companionship is much needed in the gay community.
"These kinds of drop-ins, friendly chats, are very important," he says. "You can get isolated, and it can be a real blow. Just knowing that someone is going to be stopping by can be very helpful."
"For the heterosexual population, typically you've got a spouse and some children," Dinsmore continues, pointing to "Still Out, Still Aging," research done by the MetLife insurance company. "There's a small network there that can work if someone needs some assistance. For us, it's the reverse of that. We're seeing a need to really think about this more."
Of course, with the new Friendly Visitor Program – supported by Brother, Help Thyself, supplying funding that covers the program's liability insurance – there is not just thinking, but action. And the community has stepped up, with four volunteers already trained, and all 10 spots for the Aug. 13 training filled as well. And while Dinsmore says more trainings are likely to follow, finding volunteers has been the easy part. It's finding those isolated seniors that's tricky.
"Older people – certainly older LGBT people – who really need something like this are often the hardest to find," he says. "They're just not connected to anyone anymore."
For more information about SAGE Metro DC and the Friendly Visitor Program, call The Center at 202-682-2245 or send email to sagemetrodc@thedccenter.org.