When Harry Potter makes his curtain call, it's not just any end. It's The End. The end to a decade-long cinematic buffet that's made such an absurd amount of money, Warner Brothers split the adaptation of J.K. Rowling's last book in half. The end to a terrific on-screen relationship between three very talented — and now, very rich — actors. The end to an eight-movie franchise that's been both maligned and praised, but impossible to ignore. And if that's not enough fodder for a finale, it's got that whole magic thing going for it too.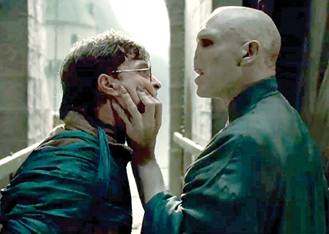 Look out Mr. Wizard! Radcliffe and Fiennes
Harry Potter and the Deathly Hallows Part 2 picks up right where the previous movie left off: Voldemort (Ralph Fiennes), fresh off of a grave-robbing trip that scored him the Elder Wand, is at the height of his powers; Harry (Daniel Radcliffe), with friends Ron (Rupert Grint) and Hermoine (Emma Watson), are on the hunt to destroy Horcruxes and kill the serpent-faced baddie; and Hogwarts is under the strict eye of the deliciously sinister Severus Snape (Alan Rickman).
Confused? If so, you're probably too far-gone to catch up. (Also, get out from under your rock. It's nice out here.) On his third tour of Potter duty, director David Yates spares no time for newcomers. Not that anyone can blame him, with all the unfortunate expository work, done plod-by-plod, in Part 1. But by sparing an introduction, Yates gives himself plenty of room to create a deliberately paced send-off for the world's favorite scarred, bespectacled wizard.
Where the Potter movies once brimmed with spastic energy, Deathly Hallows Part 2 lingers. Yates wisely filled the movie with extended pauses and silences, meant to enhance the mood created by Alexandre Desplat's haunting score and Eduardo Serra's shadowy cinematography. Hogwarts, once populated by cheery landscapes and bright tones, has fallen victim to a slow ruin where dark is supreme.
That's not to say the movie isn't blockbuster material. An early heist scene expertly calls to mind Indiana Jones and the Last Crusade, but with added claustrophobic tension that suggests The Empire Strikes Back. When it veers too dark too soon, Grint breaks the mood with a few well-timed pithy lines. And, of course, Harry and Voldemort are propelled toward an epic, climactic showdown that features their respective allies trading blows. Deathly Hallows Part 2 has all the elements of a traditional summer hit — just avoid the 3D version, if only because the superfluous effect distracts more often than it dazzles.
Luckily, 3D vignetting can't diminish the accomplished cast, which clearly relishes the chance to don robes and wands one last time. Rickman is at his best, drawling his lines with a thick, oozing contempt that's only equaled by his flourishes — every cold stare and swoop of the cape adds to his victory lap. Yates once again tapped British acting elite to round out Rowling's famously populated world. Maggie Smith shines as she roars back into the series, stealing scene after scene as Hogwarts professor Minerva McGonagall. The sole misstep is the bland-as-oatmeal chemistry between Radcliffe's Harry and Bonnie Wright's Ginny, whose relationship is largely written out of the script. Nevertheless, the lead trio of Radcliffe, Watson, and Grint — once a floppy-haired gang that struggled through scenes — gracefully manage to exude charisma and presence against their veteran support.
What truly separates Deathly Hallows Part 2 from standard blockbuster fare is time. When characters die — and as any fan knows, Rowling axed plenty before the last page — there's a pain and mourning that resonates through the franchise's length. Screenwriter Steve Kloves addresses that attachment late in the movie when Potter, briefly reunited with Dumbledore, asks his mentor about perspective. What's real? What isn't? How can we tell the difference? It's a rare moment when the metaphorical curtain is raised to reassure anybody who's following along.
HARRY POTTER AND THE DEATHLY HALLOWS PART 2





Starring
Daniel Radcliffe,
Ralph Fiennes,
Maggie Smith
Rated PG-13
130 Minutes
Opens 7/15
Area Theaters
"Of course it's happening in your head," Dumbledore tells Harry. "Why should that mean it's not real?"
In other words, it's all right to cry or laugh or cheer. (Emphasis on the crying bit.) Perspective makes the movie worth more than the sum of its parts, however well crafted those parts may be. As a result, Deathly Hallows Part 2 secures Harry Potter's place in the cultural pantheon alongside the likes of Frodo, Luke Skywalker, and Peter Parker. But still, it's tough to grapple with The End.
When the dust settles after two hours, Yates stays true to Rowling's book with an epilogue that sweeps away the finale's debris and finds the survivors in smiles and grown-up clothes almost two decades later. As the camera lingers for the last time, the weight is on the audience rather than the screen. It's the kind of moment where you not only consider the seven-book, eight-movie franchise, but your last decade-and-a-half as well. For an instant, you think about long-forgotten friends. Crushes you never had the nerve to ask on dates. Jobs, vacations, apartments. The life you've made for yourself.
And just like that, the magic is gone.