"I'm going to kill her when I get out."
Those were the words of Robert Hannah on June 19, according to a Metropolitan Police Department report, who banged on the seat of an MPD police car while en route to a police station having just been arrested by officers on allegations of domestic violence.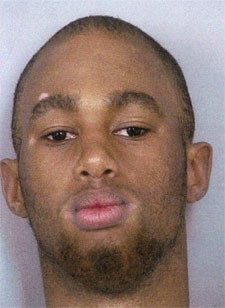 Hannah
Hannah, 20, was also charged with "Threats to do Bodily Harm" for that remark.
Hannah's name is a familiar one to the local LGBT community, particularly Gays and Lesbians Opposing Violence.
It was in the fall of 2008 that Tony Randolph Hunter, a 37-year-old gay man from Clinton, Md., was attacked by Hannah and a group of others while heading with a friend to a Shaw neighborhood gay bar.
After an altercation, Hannah pushed Hunter, who as a result fell and hit his head on the sidewalk. He died as a result of the injuries on September 17, 2008. Hannah, though, was convicted of simple assault and given just 180 days behind bars. The community was outraged.
GLOV criticized the prosecutor in the case for accepting Hannah's claim that Hunter inappropriately groped him before the attack; for failing to interview Hunter's friend, who witnessed the attack and was also physically assaulted, in the four months following the incident; and for not prosecuting others who were with Hannah that night.
Now, Hannah is up on charges for the June 19 incident, where he is accused of pushing his girlfriend of the past five months into a traffic street from a parking lot.
Officers from the Summer Increased Community Enforcement Crime Initiative on bikes noticed Hannah holding the woman with a "firm grip" in a parking lot and then pushing her into the road, according to a June 20 police report.
"Hannah was then observed pushing the complainant forcibly and against her will from the parking lane into the northbound thru lane," the document states.
According to the document, police found out after interviewing the victim that a verbal altercation about a cell phone between Hannah and her had started in the hallway of a residence.
"Hannah then grabbed the complainant's wrist and twisted her arm around her back and pushed her out of the hallway and outside. Hannah then continued to push the complainant out onto the sidewalk and into the parking lane …."
That's when officers arrived at the scene. Hannah was not cooperative with police when they tried to interview him about the incident. He was charged with assault and attempted threats with a status hearing set for July 14. He is currently in police custody without bond for two separate misdemeanors: possession of marijuana as well as this new assault and threat charge.
Before his July 14 court date, the local LGBT community is doing what it can to make its voice heard.
"There is no reason why a man thrice charged with violent crimes should be able to walk the streets of my neighborhood as if nothing ever happened," Rickey Williams, a D.C. resident wrote in an open email sent to Judge Lee Satterfield, who is the chief judge for the D.C. Superior court, as well as elected D.C. officials and others.
"How many more people must suffer before anyone does anything about Mr. Hannah? Does he have to kill someone to show just how serious he is about not obeying the laws of D.C.? In fact, he has already done that and he is still out on the streets!"
Those voices include that of gay D.C. City Councilmember Jim Graham (D-Ward 1).
"My reaction was one of 'Thank God the community is back in this, and is paying attention to it,"' Graham said, talking to Metro Weekly on July 1 about seeing Hannah's name in an email about the incident. "Because without that attention, things have a way of slipping and sliding. And I've seen it happen too many times.
"I'm saying this as a general statement, but too often judges don't hear from the impacted communities. So I don't think they take into account enough, the amount of grief that falls on us. Whenever I have the opportunity, I'm right there."
Graham says he's hoping to see "justice that takes into account the gravity of what's happened here."
Chris Farris, spokesperson for GLOV, says the organization is outraged by Hannah's latest charge – but not surprised.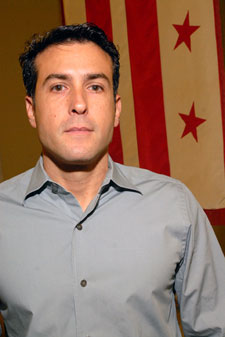 Farris of GLOV
(Photo by Ward Morrison)
"This is a person who's committed one of the most violent crimes that's taken place since GLOV started and someone who I was absolutely sure would continue to be a violent criminal. That has proven true," Farris says.
Farris says he takes issue with the prosecution in the Tony Hunter case for providing a plea bargain that entailed Hannah pleading guilty to a simple assault charge.
"The judge gave him the maximum sentence that he could give him. What was ridiculous was that prosecutors decided to allow him to plea to a misdemeanor when that misdemeanor was actually a violent murder. They allowed him to plead guilty to simple assault.
"And what we were told at that time, by the prosecutor [Assistant U.S. Attorney Kevin Flynn] when I confronted him after the sentencing and said, 'Do you realize what just happened, you are letting a violent murderer go back on the street,' his response to me was that I didn't understand what a nice guy this was who had a hard life and was really going to do fine."
[Update: Talking to Metro Weekly on Tuesday, July 5, U.S. Attorney's spokesperson Bill Miller says Flynn denies making the statement attributed to him by Farris.]
Hannah is scheduled to appear in a D.C. Superior Court Room 111, on July 14, at 9:30 a.m. For details continue to visit metroweekly.com.