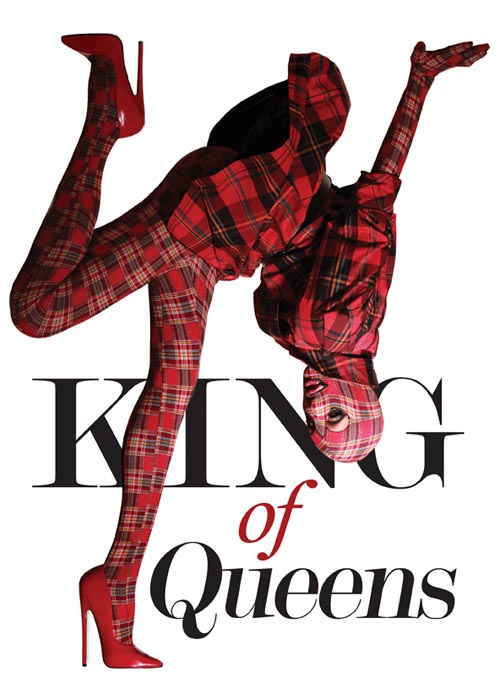 There are some things hair and makeup can't fix. A broken iPhone, for instance.
On a Tuesday afternoon in Los Angeles, Sutan Amrull – better known by his drag persona, Raja – is late for an interview. But he's full of saving graces: apologetic, charming and funny.
"My phone just decided that it did not want to let me hear people anymore," Amrull says calmly, putting his day back together.
Working calmly under pressure might be a talent the 37-year-old West Hollywood, Calif., resident developed working as a makeup artist for Pamela Anderson, Dita von Teese and Adam Lambert. Surely he's learned a few things performing as a drag queen for nearly two decades. And Amrull insists that when in drag, keeping it together is just as important as standing out.
So the question is: How do you stand out in a room full of queens? Try dressing up as a one-eyed monster.
That's what Amrull did as Raja in her first drag appearance on the third season of RuPaul's Drag Race, appearing in a sleek black number and wearing a pink, one-eyed Cyclops hat. That appearance set Raja apart from all the other queens immediately. Week after week, Raja maintained her place on the show. And in the end, she came out on top, winning the title, $75,000, and a lifetime supply of makeup.
But long before strutting around with the confidence, glamour and beautifully grotesque attire that is Raja, Amrull suffered torment as a gay youth, struggling for years with self-expression. Eventually, the tall and slender gay man found his answer in pumps as his alter ego.
That answer led Amrull to ditching school to work for MAC Cosmetics, then landing a spot on America's Next Top Model as the show's makeup artist. Still, drag is where the heart is, and Amrull says he'd rather dress himself up than turn his talents to clients.
Months after the season finale of Drag Race, Raja is still sitting on top of the world, having wrapped an eight-city tour and releasing a music video for her single "Diamond Crowned Queen."
Raja is also appearing at D.C.'s Town Danceboutique next Saturday, July 30. And while Amrull says audiences should expect "a good old-fashioned lip-sync show," those familiar with Raja know there's nothing "old-fashioned" about her.
METRO WEEKLY: When you first appeared in drag on Drag Race, you wore a one-eyed Cyclops hat. What were you thinking?
SUTAN AMRULL: I'd watched two seasons of Drag Race already, so I knew that that first day was going to be the day where you really set the tone of who you are. That's the first impression everyone gets when you walk in and I knew that I had to wear something very simple and chic. And I wanted something that really showed my body line, without being distracted with any sort of padding. So I just decided to go without boobs. I really wanted to show the fact that I'm just this long sort of thin, weird thing. I wanted a little bit of reveal, and I just happened to have that hat, so that's how it came about.
The most challenging part for me was that I had to constantly top myself. That was the hardest part, because I was afraid that I was going to run out of ideas. That's when my confidence started to mess with my head a little bit. I was like, "How do I possibly come up with something better each time?" and that's when the stress starts to take over your brain, basically.
MW: How did you come up with your ideas?
AMRULL: It just kind of goes through me all the time. I get ideas constantly. I just keep spitting them out. It's like a domino effect: If I start on something, it will inspire the next project.
MW: How do you think you changed drag with your appearance on the show?
AMRULL: People need to remember that drag is an art form that stimulates and challenges people. The most famous drag queens, the most memorable drag queens through history have been these people like Divine or Boy George. They've always been people who have been groundbreaking or shocking. I'd like to bring that element back into drag, make it something that's kind of grotesque, but beautiful at the same time.
People are so concerned about being just beautiful and looking like a Kardashian that they forget that drag can be so much more. There's so many layers and it's individual for everyone. One person's perception of drag is completely different from the other. It's a great way to find who you are. It really isn't about just being cookie-cutter. I hope that I've been able to challenge people in that way, whether it's drag or anything that they do in their lives. Just to step away and think outside of the box a little.
MW: What was it like when the cameras were off? Was it just as catty as the show or was there an element of calm?
AMRULL: There was a lot of calm. Most of us got along really well. At the end of the day, we just had our dinner together and went to bed. It wasn't like we wouldn't speak to each other or hated each other. We had a lot of great moments together that you would never see on camera. '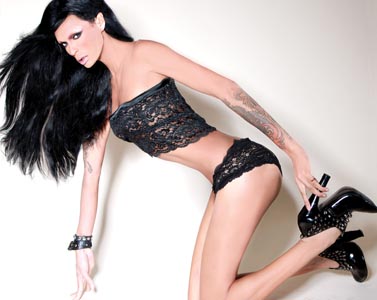 Raja
(Photo by Traver Rains)
MW: Did you get to hang out with RuPaul off camera?
AMRULL: No, not at all.
MW: Was that disappointing?
AMRULL: Kind of. I mean, we got the moments when Ru would come in and talk to us individually. That was most of it. And we were too busy, there were no moments for us to try to develop relationships with these judges. And it was sort of not allowed.
MW: Is RuPaul a diva?
AMRULL: I would say RuPaul is a diva in the positive sense, not in the bitchy sense, because I don't really think RuPaul is bitchy at all.
MW: Besides coming up with new ideas at a fast pace, what was the hardest part of being on the show?
AMRULL: I think being away from your loved ones, your family, and not having any Internet access or telephone – you're completely cut off for six weeks. That's really, really hard because my entire life is based on my appliances, my little machines and my friends. At times you just felt really alone. Even though you had your friends [on the show], you just felt completely isolated.
MW: What are you doing with the prize money?
AMRULL: I'm in my 30s, so I've developed a lot of debt in my life. I've neglected a lot of things that need to be paid off, and right now that's really what I am doing – to start off with a clean slate. There's no luxury things happening. It's just me getting ready to start over with a clear head and really get to focus on my career. '
MW: How did your life change after appearing on the show?
AMRULL: It's very different. I just went to an old local mall here and four different people stopped me as I was walking through. People had stopped me before because I was on Top Model, but no one really knew my name. Hearing my voice screamed from across the mall is a very, very new feeling for me. But if you've always imagined it in your life, if you've always wanted to have this sort of fame and notoriety, it kind of comes naturally. It doesn't feel startling to me, it just kind of feels like the place that I need to be at right now.
MW: Tell me about that. With Drag Race wrapped, where are you right now in your life?
AMRULL: Well, I live in West Hollywood in a little studio apartment that I've had for many years. It's basically like New York, living in my apartment. It's very small, but it's super cute and I go out onto my roof and I lay out there. I like hanging out with my friends. I am single, although I'm sort of – it's complicated, let's just say. I spend time at home and I create constantly, all day long. There's always a hot-glue gun going and my sewing machine is always on.
MW: You grew up in California?
AMRULL: Yes. I was born in Baldwin Park, Calif., which is about 20 minutes inland from L.A. I grew up in a predominantly Latin and black neighborhood, in the hood basically. I grew up around a bunch of "cholas" and girls who taught me how to do makeup. I grew up in kind of a rough neighborhood. We had drive-bys. I remember my friends were on a school bus and they were only a few blocks from the school and officers told them there was a full-on drive-by, a bunch of gangs were shooting at the bus.
MW: It sounds like you're still affected by that.
AMRULL: Oh, God, yeah. [It's like] high school was only last year. I just graduated. [Laughs.]
MW: When did you know that you were different from most boys your age?
AMRULL: I've always known that. Up until I went through my awkward phase, there was a part of me that you couldn't tell me that I wasn't the most beautiful thing around. I was 8 or 9 years old and I just knew that there was something special. And that I was pretty. Then puberty hit and I learned otherwise. I was like, "Oh, shit, I'm fucking ugly." I always noticed that people looked at me a certain way as a kid. I always noticed the whispering around the adults, and I never really understood it until I became a teenager that some of the behavior I had was [considered] "inappropriate." I was that loner kid. I would just find a corner with a bunch of bed sheets and towels and I would just make dresses for myself and troll around by myself, and I was content and happy. Now that I'm in my 30s, I'm still doing it. I've got my own little nook here in West Hollywood, and I do that all day. I have a giant full-length mirror and I'm constantly doing numbers and wearing fun costumes, just the way I did when I was kid.
I was a really sensitive kid. Some might call me a crybaby, because when people hurt my feelings I would just totally take it deep. I was easily hurt. I remember my mom would even have to tell me, "You have to make a little extra effort. If you see the boys playing together and they're kicking around the ball you can go and say hi to them and kick around the ball with them." And I was like, "I don't want to kick the ball. I don't want to play with those boys." I found that if I just played alone I'd be a lot more happy. I learned that from a young age: I'm perfectly happy in my own little imaginary world. So I got in trouble in school for being a daydreamer.
MW: How did those societal norms get in the way of your personal evolution?
AMRULL: My entire life, people told me that I wasn't allowed to be a big sissy, that I had to stand a certain way, that I couldn't flail my hands this way, that I had to throw a ball this way. Especially growing up with a religious background, there's a lot of those limitations placed on you. I just couldn't help it. There was no masking who I am. For lack of better words, I was just born that way. The more I suppressed it, the more miserable I became. Even thoughts of suicide would start coming through in my teens. That's when I knew I had to draw the line somewhere. I was like, "You know what? I'm miserable. I need to do whatever I have to do to make myself happy." Drag was definitely a catalyst for me to do that.
MW: What were you struggling with?
AMRULL: I was struggling with the idea of masculinity and femininity. I really wanted to express myself through clothing and style. Growing up in the hood, it's not always the easiest thing to do. It's really painful when you walk into your class in the morning and the whole room is practically laughing and staring at you and calling names. But what kept me going is I just knew there was something beyond it. I don't even have one high school yearbook. I just knew that entire time that I did't need any of those people. [I thought,] whatever they're doing to me now, it's only going to escalate me. It's going to make me a better person and I'm going to get out of this high school and I'm going to be the best freak that anybody has ever seen.
Raja
(Photo by Traver Rains)
I just had to motivate myself, because I knew that that there were so many fun things happening to me in my head that I couldn't kill myself. There was no option for suicide because I knew I had so much to offer the world. And it's been a struggle. I'm so glad to be here in my 30s now and to be able to speak so freely about it. To be able to talk to kids about it is completely awesome. I get a lot of emails from kids everywhere, just a bunch of kids who've thanked me, and people who tell me that I inspire them. It's such an amazing thing.
MW: Did you have to explain to your parents why you were into makeup and dolls and dresses, or did they just accept you?
AMRULL: I never gave any explanation to my parents until I was about 30 years old. I just kind of lived my life. I grew up in a pretty religious family. My dad is a minister and there were certain expectations within that spirituality, or that religion, that whatever my behavior was, it was wrong for them. There were times where I felt like I had to fix it. I, at some point, just realized that I could no longer fix it. I'm just going to continue doing my own thing – no explanation necessary. I'm just going to live my life the way it is. I've kind of lived by that motto. I don't really need to explain my behavior or what I do. It's what I do, it's who I am. I just kind of learned that at a really young age. It wasn't until I was 30 when I just finally had to sit my parents down and be like, "Okay, here goes. Let's just have a discussion about this. I need you guys to know who I am. I don't want to hide things any longer from you."
MW: You had done drag before that?
AMRULL: I started when I was about 16, so it's been a little bit over 20 years now. I just knew that I had to do it. I would sneak out to the clubs. I would take my costume with me and spend the night at my friend's house. On the weekend, we would go out on Friday night and get all dolled up. That's how drag started for me.
The first time that I performed, it was at an art program that I went to during the summer. It was a month-long program and I got to meet all these fun kids who were just like me. We were all kind of cut from the same cloth. We were all these little misfits in our school. We were all a bunch of artsy-fartsy kids. That really encouraged an idea for this talent show that they happened to have. I was like, "Ooh, I love 'Groove is in the Heart' by Dee-Lite. I'm going to perform that." I came up with a quick costume. It wasn't really a giant production. It was just something that we did as a fun thing for a talent show within the art program. And that's really what lit the fire for me.
MW: How did you get women's clothing at that point?
AMRULL: I've always been a thrift shopper — I love thrift shops. When you're on a budget, you learn how to refurbish clothes and really create. And we were bad little kids – we were shoplifting. I don't recommend it to everybody, but we were just little bad-asses running around. Actually, my friends were a lot wilder than I was. They would run into a wig shop and run out with a wig. It was dangerous. It was something that would have gotten any of us in so much trouble, but that's just the way it was. I hung out with a bunch of hood rats that wanted to go to the club, so that's what they did. But I was always that person that went to the thrift shop and really re-made my clothes and combined things and styled it. That to me was the funnest part: putting it all together. It still is.
MW: Did you ever get weird reactions buying women's clothes?
AMRULL: Oh, sure. But it was fun. It was fun to challenge people. When I was 18, 19 years old, all I wanted to do was to stir the pot, make people crazy and be stared at and cause a scandal. It was fun. It was bad. It was my way of rebelling and I loved it. I don't have those hang-ups anymore. It sort of leaves you after a while. Now I just go into a women's store and I'm like, "Give me that one." I could care less if they look at me funny or not.
MW: When did you create Raja?
AMRULL: The name came from when I was about 18 or 19 years old, being a club kid. I was wearing a bunch of crazy outfits and people started to notice. They were like, "Wow, you're actually really pretty." "You're so tall and so thin and so model-y. Why do you have to wear all the crazy outfits? You should refine it and really embrace the idea." And that's where the marriage of avant-garde fashion and femininity came together and that's how Raja began.
MW: Why did you name yourself Raja?
AMRULL: A friend helped. At the time, she was working at Disneyland. Aladdin, the movie, had come out, and there was a tiger in it named Raja. We were just talking one day and she was like, "I love that name Raja. If I ever had a daughter, that would be a cool name." We were just driving down the street and I just remember being in the passenger seat in the car and thinking, "Wow, that's really cool. We should really do that, because in Indonesia the name Raja means king, and I was also born in the Year of the Tiger." It was the '90s, so I really wanted a name that was just singular, like Madonna or Cher. I just could not see myself being a person who has a first and last name.
MW: Raja's look is always different. Does anything about her stay the same – "signature" Raja? Or is she a blank canvas every time?
AMRULL: I have so many inspirations that I try to express all those as much as I can. I love Leigh Bowery and Boy George and Isabella Blow – just so many people. I'm influenced by so many things, things that are global and pop culture. I would like to think that I am a blank canvas every time.
MW: Did you study art or are you self-taught?
AMRULL: I studied for about two years. I went to Cal State, Fullerton. I hated it. I didn't understand why I was there. I was studying art, but the classes were kind of boring me because I had been drawing and painting since I was a kid. And I knew I was really good at it. It was no longer challenging for me. That's when I started dabbling in the theater department, and that's when things really started to change for me. I started to learn about makeup and hair and wig styling and costuming. That was a lot more interesting than just drawing a bunch of pictures all day long. I left school to go work for MAC Cosmetics and that's when it began. That's when I started to become a makeup artist and my career took off, working for MAC.
MW: Having spent so many years as a makeup artist, whose face would you like to do, if given the chance?
AMRULL: That's really hard for me to answer to right now, because my career has been veering away from doing makeup. I'm focusing so much on putting makeup on myself that I really haven't thought about that. I've never really loved or had the same passion for makeup that I do for performing and for being dressed in drag. That's where my passion lies, more than getting other people ready.
But I would actually like a turn on Lady Gaga. I would really love to meet her and play around with her. I think we would have a lot of fun together. This sounds so typical. I've never really worked with her, but we definitely have six or seven degrees of separation. I'm surprised that I've never met her. If I do have an opportunity, I would love to work with her.
MW: On the show, you say you were doing "Gaga before Gaga."
AMRULL: Pretty much. She's definitely got a lot more money and a lot more backup, but I get her. I get her ideas and I get where she's coming from and I have that same kind of passion that she does for clothing and style. I understand that.
MW: Have your parents seen you do drag?
AMRULL: Being on Drag Race started the dialogue more with my parents. They've never actually seen me perform. My parents are older and are quite conservative. They have no interest in ever seeing me in a nightclub, so there would have never been a way for them to see it otherwise.
MW: Did you warn them that you were going to be on the show?
AMRULL: I had to tell them because my parents are actually pretty fragile. They're older, so they've got medical issues and stuff. I had to let them know just in case something happened to them. Drag Race happened for me at the right time in my life. Drag was no longer a big secret with my family. The fact that I was gay was no longer a secret. We definitely had a really healthy dialogue, so me being on Drag Race was no longer a big deal. It had nothing to do with them. It was all about me pursuing something in my life.
MW: Did they give you feedback on it?
AMRULL: My mom was a little concerned at first, because if you live in this day and age, everybody knows what the reality of reality TV is. She was just worried that people would make crazy assumptions about me, and the only advice that she gave me was: "Make sure you keep it classy."
MW: What's in store for Raja?
AMRULL: I am such a huge fan of RuPaul. I would love to not necessarily mimic her career but to get that same longevity and influence. I don't really know what those steps are and what they're going to be. All I know is that if I let things go and let them happen organically the way I always have in my life, great things will happen. I'm experimenting with a lot of different ideas and I really hope to get to be as influential as Ru is.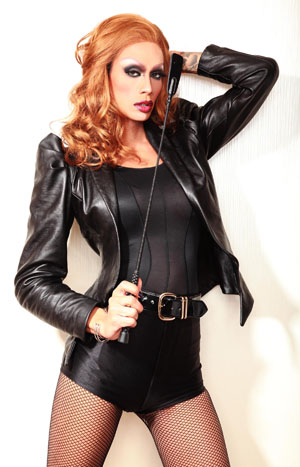 Raja
MW: What advice do you have for up-and-coming drag queens?
AMRULL: You need to be able to back up your ideas, be able to own it. Don't let other things get in the way of the person that you are.
In the same token, be a sponge. Keep learning. It's always a learning process. I've been doing this for so long, but I'm still learning something new every day from other queens. Leave all the hating and negativity behind you, and do what you do. Be authentic and enjoy it. And never forget that it should always be fun.
MW: But isn't the hating sometimes part of the fun?
AMRULL: It's never really been part of my drag world, which is funny because some people wouldn't believe me saying that because there was so much drama in the TV show. But my relationships with other drag queens never had that kind of tension, so that's why I was so bugged by it. I was like, "Why are they coming for me? Why are they making such a fucking big deal out of nonsense?" That's what really bothered me. Because so many of my friends are drag queens, we have really close relationships and we're very tight with each other, so I couldn't really relate to drama. I think it's just really important to stay grounded and really make great relationships with your friends and always be able to absorb new information.
MW: What is it like being the man behind Raja? How has she changed your world?
AMRULL: I'm at a really lucky and privileged point in my life. I'm not sure if a lot of people get to experience this. I have freedom. I have free-flowing creativity that I always wanted. I can wear whatever I want. I can say whatever I want. I am, now at 37 years old, the person that I always wanted to be when I grew up.
Raja will appear at Town Danceboutique, 2009 8th St. NW, on Saturday, July 30. For more information, call 202-234-TOWN or visit towndc.com.
Watch full episodes of Season 3 of RuPaul's Drag Race at logotv.com.