A random shirtless guy ran right through a video shoot for smooth jazz artist Dave Koz's new single, "This Guy's In Love With You."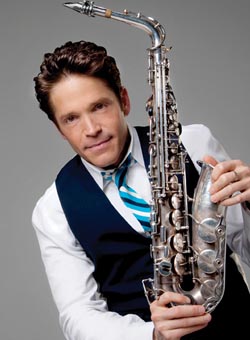 Dave Koz
"He was just out for a morning run," says the Koz, who recruited him to be part of the video's "love mob" for marriage equality, put together through social media.
"Over 200 people showed up on an early Sunday morning in Ventura [Calif.] to be part of this video," says the gay saxophonist. "We had people from all walks of life — drag queens, older married couples, younger gay couples, homeless people."
And don't forget the single shirtless hunk. During a stretch in the video when couples are hugging, holding hands or kissing, he "ended up spontaneously planting [a kiss] on this woman's lips," says Koz. "And her partner shrieked with delight. It was such a great moment."
An even more notable participant in the video shoot was Herb Alpert, along with his wife. Alpert had scored a hit out of the same Burt Bacharach and Hal David tune four decades earlier, and he also plays trumpet on Koz's version, released on last year's Hello Tomorrow.
"[Alpert] loved the idea of this song that he made famous over 40 years ago being heard with some new, fresh ears as a song for marriage equality," says Koz. "It meant a lot to me and everybody else who assembled there in Ventura that he was there to support the cause."
Koz actually sings on his version of "This Guy's In Love With You" in addition to playing his usual saxophone. "The truth is I'm not a singer," says Koz, who can carry a tune just fine. "[But] it almost works better for the message of the song to have a guy singing it sort of a little bit more tentative, a little bit more vulnerable."
Koz, who stops at the Birchmere Wednesday, July 20, says Alpert won't be joining him on tour. "You can't expect a legend to come out on tour with me," he teases. But Koz will have a five-piece band in tow, and promises a "high energy show, with a lot of audience participation. We try to make it a lot of fun."
Dave Koz performs Wednesday, July 20, at 7:30 p.m. The Birchmere, 3701 Mount Vernon Ave., Alexandria. Tickets are $49.50. Call 703-549-7500 or visit birchmere.com.