A lawsuit filed by opponents of same-sex marriage in New York that seeks to void the law "is without merit," a spokesman for Gov. Andrew Cuomo (D) said today.
The lawsuit asks for the Marriage Equality Act to be declared void by virtue of a claimed violations of the state's Open Meetings Laws and the constitutional provision that dictates when the governor can issue a "message of necessity."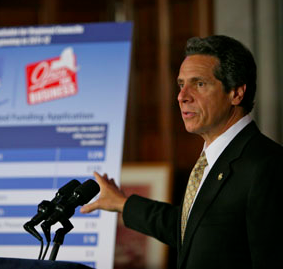 The governor's spokesman, Josh Vlasto, added: "The plaintiffs lack a basic understanding of the laws of the state of New York."
In large part, the lawsuit claims that, by virtue of the Republican caucus constituting a quorum of the Senate, a meeting of the caucus in which Mayor Michael Bloomberg (I) attended and a dinner that Cuomo held for Senate Republicans violated the Open Meetings Laws. Also, senators turned their cell phones off, which, the lawsuit claims, is unusual:
Generally, Senators keep their cell phones on during business hours to permit their staff and members of the public to contact them.
[UPDATE @ 5:10 PM: According to the New York Open Meetings Law exemptions, "Nothing contained in this article shall be construed as extending the provisions hereof to deliberations of political committees, conferences and caucuses [means a private meeting of members of the senate or assembly of the state of New York … without regard to whether such political committees, conferences and caucuses invite staff or guests to participate in their deliberations." Capitol Confidential gives some background on the provision.]
The "message of necessity" portion of the lawsuit does not appear to include any information even alleged to be supporting the plaintiffs' argument that the message was issued unconstitutionally. The lawsuit states only that "there was no pressing state need to press the act on June 24, 2011."
One of the striking, though not surprising, quirks of the lawsuit is its constant insistence of using quotation marks around all mentions of marriage that relate to same-sex couples:
Immediate and irreparable harm will occur if injunctive relief is not granted insofar as couples will be "marrying" pursuant to a law that is invalid and, ultimately, could result in the invalidation of those "marriages."
The move, whether its aim or not, has the effect of making the lawsuit look more like a political than a legal document.
The lawsuit — though brought in the name of New Yorkers for Constitutional Freedoms, Jason McGuire, Duane Motley and Nathaniel Leiter — is lawyered by Liberty Counsel attorney Rena Lindevaldsen.
Lindevaldsen has a long history of bringing such cases. According to her Liberty University School of Law biography, "She filed the first lawsuit to enjoin San Francisco's efforts to 'marry' same-sex couples, and obtained two orders enjoining public officials in New York from officiating same-sex unions. She successfully challenged New York City's decision to publicly fund a high school for homosexual students and a Maryland school board's decision to implement sex education curriculum that presented materials hostile to conservative, religious beliefs. In addition to her efforts to protect children and families, she regularly provided representation to Child Evangelism Fellowship in its efforts to gain access to public schools for after-school Good News Clubs."
Read the lawsuit: NYMarriage-Complaint.pdf
[Photo: Cuomo]